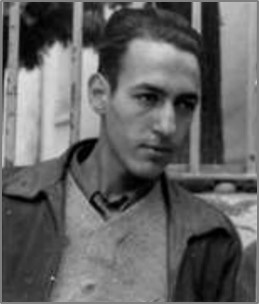 Biography
Gordon, Louis H (Dalton, Louis); b. November 15, 1915, NYC; Jewish; Single; Machinist and Driver; CP 1936 and YCL 1932 (1930); Received Passport# 376800 on March 29, 1937 which listed his address as 451 Kingston Avenue, Brooklyn, New York; Sailed June 4, 1937 aboard the Statendam; Arrived in Spain via Massanet on June 19, 1937; Served with the 86th BDE, Transport, American Hospital, Driver; Later with the Lister Brigade, Transport; Returned to the US on December 20, 1938 aboard the Ausonia; WWII US Army, 1269th BN Combat Engineers, European Theater of Operations, France, Italy, Germany, Rank SGT; d. March 26, 2006, buried Arlington National Cemetery, Arlington, Virginia.
---
Sources: Sail; Scope of Soviet Activity; Cadre; Figueres List; L-W Tree Ancestry; Find- a-Grave# 49191138. Code A
---
Obituary: The union Louis H. Gordon belonged to became part of the United Steelworkers of America(which ceased to exist when it merged with PACE on Apr. 2005.) His remains were interred in Arlington National Cemetery in October, 2006. ------ Lou was born in Brooklyn, graduated from Boys' High School, then went to work as a union organizer for the Pulp, Sulphite & Paper Mill Workers (today, part of the United Steelworkers of America). It was while attending the Labor Relations School of Cornell University in 1937 that he learned of the plight of the Spanish people and decided to go to Spain. He served on the Cordoba and Aragon fronts and was wounded during the Ebro battle. Lou was a regular attendee at reunions of the Lincoln and International Brigades. During the Homenaje in 1996, he surprised the Amigos who had organized the event in Madrid. At one point a group of young madrileños accompanied Irish and American brigadistas on a night out. Little did they suspect that their Lincoln veteran was a noted harmonica player who had rubbed elbows with the likes of Patrick Clancy. In a pub, the young Spaniards were regaled as the veterans sang to Lou's accompaniment well into the night, to the enjoyment of all present and the lasting fame of Lou. Five years later, it was Lou's turn to be surprised. In 2001, during the 65th anniversary of the battle for Madrid, he made an unexpected friendship. Over lunch, veterans of different nationalities were sharing their stories. Members of the Austrian delegation were amazed to learn that Lou had participated in the liberation of the Dachau concentration camp in April 1945 as a sergeant in the Combat Engineers of the Seventh US Army. At the table was the daughter of an Austrian IB veteran who had survived years in the camp and had been liberated by Lou's unit. The daughter enthusiastically told everyone that were it not for Lou, she would never have been born nor be there to tell her father's tale. Moved and very pleased by the encounter, Lou spent the rest of the weekend with his new Austrian friends. It was truly rewarding for him to have such tangible proof of his long-time antifascist commitments. After service in World War II, Lou returned to his union work, where he remained until his retirement in 1985. He served as an international representative, local union president, instructor in contract and parliamentary law, director of political education, and lobbyist. He wrote a column in the union newspaper for 33 years. Upon his retirement, he was appointed director of the retiree program until 1998, when he became a consultant to the union health and welfare fund. During his last 8 years, Lou was a consumer advocate for the Ulster County Consumer Fraud Bureau and received a Pride of Ulster County award for community service. Louis H. Gordon, the popular New York brigadista, passed away at his home on March 25, 2006. —Robert Coale
---
Photographs: Lou Gordon in Spain, RGASPI Fond 545, Opis 6, Delo 901; & Still from With The Abraham Lincoln Brigade in Spain.; be Smorodin and Leo Gordon, April 29, 2001, by Richard Bermack; Lou Gordon, April 26, 1997, by Richard Bermack.
---