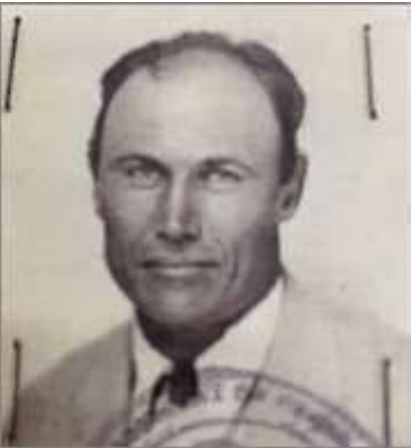 Biography
k-Goslin, Louis Melvin b. December 13, 1904, DuBois, Pawnee County, Nebraska; Father Joseph Rosen Goslin (b. Summerner Illinois November 30, 1864- 1924), mother Etta Fitzhugh; Machinist; CP; Received Passport# 30084, San Francisco series, on June 28, 1937 which listed his address as 84 South 4th Street, San Jose, California, Sailed July 7, 1937 aboard the Queen Mary; KIA September 5, 1937, Belchite.
---
Siblings: brother Joe Goslin, sister Ruby Goslin.
---
Sources: Scope of Soviet Activity; Americans and Canadians Killed in Spain Complete list to November 15, 1937. Code A
---
Photograph: Louis Melvin Goslin, Passport Photograph, 1937.