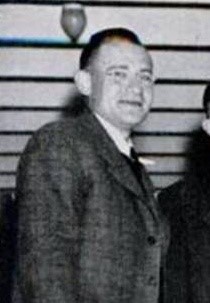 Biography
Ornitz, Louis Noah b July 5, 1912, Brooklyn, New York; POW; Father Samuel Ornitz (1880-1959), mother Bertha Ornitz (1884-1953); Elementary school education; Seaman and Labor Organizer for the CIO (possibly a medical student); CP; Received Passport# 367025 on February 13, 1937 which listed his address as 896 Bryant Avenue, Bronx, New York; Sailed February 20, 1937 aboard the Ile de France; Served with the Regt. de Tren, Motorcycle dispatch rider and driver; Captured July 26, 1937, Brunete; Exchanged October 8, 1938; Returned to the US on October 18, 1938 aboard the Queen Mary; WWII US Army, Coastal Anti-Aircraft Battery, HQ Section; Later 77th Division and 3rd Division, ETO; Married Blanche Lola (Fisher) Ornitz (19243-1986), on December 1, 1944 in Orange, Florida, son Barry L. Ornitz; d. September 30, 1983, Seneca, South Carolina, buried in Seneca.
---
Siblings: brothers Isidore Ornitz (1907-1989), Jack Ornitz(1908-?), Koppel Ornitz (1909-1919), Morris Ornitz (1911-1973), Harry "Al" Ornitz (1917-?), Solomon Ornitz (1918-1985), Ruben Ornitz (1920-1984), and Joseph B. Ornitz (1922-1999), sister Elsie Ornitz (1915-1990).
---
Sources: Sail; Scope of Soviet Activity; RGASPI Fond 545, Opis 6, Delo 958, ll. 15-16, Fiche lists as missing and 2nd one with prisoner; USSDA 2:0818, 58:0554; L-W Tree Ancestry; Find-a-Grave # 172043348; POW, Author pamphlet I Was a Prisoner of Franco. Code A
---
Photograph: Lou Ornitz from a photograph of returning POWs aboard the Queen Mary, October 8, 1938.