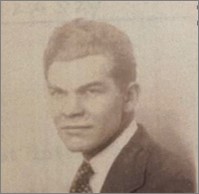 Biography
k-Beregszaszy, Ludwig (Beregszaszy, Louis); b. April 4, 1909 (April 10), New York City, New York; Hungarian American; Father Edward Beregszaszy, b. Verschitz, Hungary July 16, 1882-; Mother Elisabeth (Kierer) Beregszaszy; Returned to Hungary from 1912 to 1923; Metal Worker; CP; Received Passport# 29309279 on February 1937 which listed his address as 107 124th Street, Richmond Hill, New York; Sailed March 10, 1937 aboard the Washington; Served with the Albacete Auto Park; d. from wounds received July 6, 1937 during the German bombing of Almeria; Beregszaszy was in the town delivering trucks from the Auto Park.
---
Sibling: sister Adeline Beregszaszy.
---
Source: Scope of Soviet Activity; Americans and Canadians Killed in Spain Complete list to November 15, 1937.
---
Photograph: Ludwig Beregszaszy, Passport Photograph, 1937.