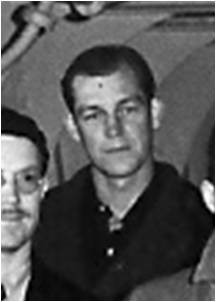 Biography
Hinman, Luke Anson (Hinman, Loyal Anson); b. November 13, 1905, Sacramento, California (Sheridan, Placer County); father E. B. Hinman, mother Cora Hinman; 3 years High School; No prior military service; Single; CP organizer, Cannery worker and utility workrer; CP May 1934 (1933) county organizer, and former member of the IWW, Cannery and Agricultural Union CIO; Received Passport# 31719, San Francisco series, on September 24, 1937 which listed his address as 2380 South Court, Palo Alto, California, and (427 stambough Street) Redwood City, California; Sailed October 20, 1937 aboard the Queen Mary; Arrived in Spain via Massanet on October 31, 1937; Served with the XV BDE, Lincoln-Washington BN, Plaza Mayor, CP Secretary in BN, BN Chief of Scouts; Rank Cabo, promoted to Sargento after Retreats; Served at Retreats (Belchite, Caspe, Batea, Mora de Ebro) and Ebro Offensive; Returned to the US on December 15, 1938 aboard the Paris; d. May 3, 1994, Covelo, Mendocino County, California, buried in Foster Cemetery, Covelo, Mendocino County, California, Wife Bruni Vasilio Hinman.
---
Sources: Sail; Scope of Soviet Activity; Cadre; Figueres List; Pay; RGASPI (also under Loyal) Fond 545, Opis 6, Delo 910, ll. 43-47; Harriman; (obituary) The Volunteer, Volume 16, No. 2, Fall 1994, p. 14; Find-a-Grave# 20891208. Code A
---
Photograph: Luke Hinman. From a group photograph of volunteers returning aboard the Paris; December 15, 1938. Veterans of the Abraham Lincoln Brigade Photograph Collection; ALBA Photo 15; Series I Photographs 1930s-1990s, Box 1, Folder 124. Tamiment Library/Robert F. Wagner Labor Archives. Elmer Holmes Bobst Library, 70 Washington Square South, New York, NY 10012, New York University Libraries.