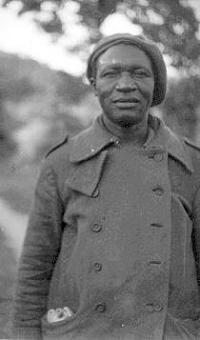 Biography
Coad, Mack
b. October 26, 1894, Blackstock, South Carolina; African American; Father Henry Mack Coad, mother Charlotte Betty (Wilson) Coad; No prior military service; Elementary school through the 4th grade; Attended Lenin School 2 years; Single; Party Organizer; Crane Operator, Train Fireman, Driver and Union organizer; Workers Alliance, Railroad Brotherhood of Locomotive Firemen, CP 1929, Spanish CP; Received Passport# 468859 (458859) on July 10, 1937 which listed his address as 514 E. 2nd Street, Charlotte, North Carolina; Sailed October 2, 1937 aboard the
Georgic
; Arrived in Spain via Espolla on October 15, 1937; Trained at Tarazona; Attended OTS and graduated January 1938; Served with the XV BDE, BDE MG Co. from March 11, 1938; Transferred to Mackenzie-Papineau BN, Co. 4 (MG Co.) on March 15, 1938; In April was in Co. 2, Section Leader; Served at Retreats (Letux March 11, 1938, Hijar March 13, 1938, Caspe March 15, 1938, Batea April 1, 1938, and Gandesa April 2, 1938), and the Ebro Offensive (Ebro Crossing July 25, 1938, and Gandesa July 27, 1938); Rank Cabo, acting Sargento; WIA August 1, 1938 during the attack on Hill 481, wounded in right eye, remainder of the war spent in hospitals; Vich 4 days, Mataro 1 month, and Maeya 1 month and 3 days; Returned to the US on December 15, 1938 aboard the
Paris
, he listed his address 635 Frest Street, Charlotte, North Carolina; WWII civilian; Married Lula Frazier (1905-?) on February 15, 1944; d. May 9, 1967, Birmingham, Alabama.
---
Siblings:
sister Betty Wilson.
---
Source:
Sail; Scope of Soviet Activity; Cadre; Figueres List; RGASPI Fond 545, Opis 6, Delo 874, ll. 1-9; African Americans; L-W Tree Ancestry. Code A
---
Box 2, Folder 23, 177_197042 [List of Names] Moscow Fond 545, Opis 5, Delo 197, ll. 42, Oct. 1938. This is a page from Folder 197: Album of 15th International Brigade Presented to the American Communist Volunteers of the 15th Brigade by the Communist Party of Spain. On a two-page spread entitle
Declaration of the American Negro Comrades
eighteen individuals signed the second page.
---
Biography
Mack Coad was born in Blackstock, South Carolina on October 26, 1894. As a young adult he worked as a railroad fireman and crane operator. He lost his railroad position at the onset of the Great Depression. In 1929, after attending a meeting of a Communist led unemployed group, Coad joined the CPUSA. Because of his leadership capabilities, Coad was selected to be a student at the Lenin School in the Soviet Union. In 1931, after his return to the United States, Coad was assigned as a union leader in the South. He worked with steelworkers in Birmingham, was an organizer of the Alabama Sharecropper's Union, and was also active in Tennessee, Georgia, and North Carolina. Coad departed for Europe aboard the
Georgic
on October 2, 1937. In Spain Coad rose to the rank to Corporal. Severely wounded in the right eye during an attack on Hill 481 outside of Gandesa on August 1, 1938, during the Ebro Offensive, Coad spent the rest of the war in the hospital, rejoining the Battalion at Ripoll for repatriation. Coad returned from Spain aboard the
Paris
on December 15, 1938. In an interview in the
Daily Worker
of February 11, 1939, Coad recalled that he volunteered "to help wake the Negro up on the international field." Coad died in May 1967 as a result of a mining accident. ~ Chris Brooks
---
Photographs:
Corporal Mack Coad, Company 2, MacKenzie-Papineau, May 1938. The 15th International Brigade Photographic Unit Photograph Collection; ALBA Photo 11; ALBA Photo number 11-0212. Tamiment Library/Robert F. Wagner Labor Archives. Elmer Holmes Bobst Library, 70 Washington Square South, New York, NY 10012, New York University Libraries; and below Mack Coad in Spain, RGASPI Fond 545, Opis 6, Delo 874, ll. 1.
---