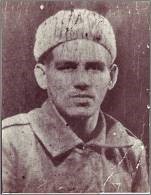 Biography
Magranet Iglesia; Juan
(Magraner, Iglesias; Magranes);
b. May 8, 1909, Havana, Cuba; Cuban American; Driver and Restaurant Worker; CPUSA, Executive Bureau Club Julio Antonio Mella; Domicile 80 5
th
Avenue, (actual address may have been 999 Simpson Street, Bronx), NYC; Food worker's industrial union; Was supposed to leave with one of the first groups of volunteers in January 1937 but was diagnosed with a hernia; After his operation and recovery he left in March; Crossed the Pyrenees which caused issues with his recently healed surgical site; Arrived in Spain April 22, 1937; Initially remained in Figueres to act as an interpreter and staff officer, he remained in the position for a year; Then transferred to the 40
th
Division, 124
th
Brigade Mixed, and served in the 2
nd
Group Artillery, Anti-tank battery; Rank Sargento (Teniente); Served at the Ebro Offensive; At the close of the war he crossed at Port-Bou into France on February 9, 1939 and was placed in the French concentration camp of Argelés–sur-Mer; Returned to Cuba sailing from Le Havre on May 13, 1939 aboard the
Orduña
and arrived in Cuba on May 27, 1939; Suffered from severe lung infection that prevented him from working for more than six months after his return..
---
Sources:
RGASPI Fond 545, Opis 6, Delo 42, ll. 28, Relacion de los desertores del Acantonamiento "H"; Opis 6, Delo 585, ll. 127, Cubanos A exclusir del 1 Convoy Malos y sospechosos (hand-written), undated; Opis 6, Delo 597, 6-12; Grados Militares Alcanzados Por los Cubanos en los Tres Años de Guerra, ABBI; Primer Partido Comunista de Cuba 1/2:1/1.10/45-202, Lista de Embarque: Repatriados en el vapor Orduña el 13 de Mayo 1939; Alfonso Bello and Pérez Díaz; SIDBRINT.
ht
t
p://cubanosenlaguerracivil.blogspot.com/search?updated-max=2007-04-30T18:58:00Z&max-results=20&start=11&by-date=false
---
Photographs:
Juan Magraner in Spain, cubanosenlaguerracivil.blogspot; Albacete #178, undated, CEDOBI.
---