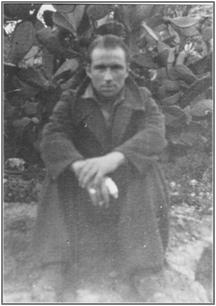 Biography
Billings, Marcus Jusson
b. June 10, 1914, Redlands, California; Father Owen Billings (1878-1961), mother Martha Francis (Devore) Billings (1890-?); Graduated from the University of California, Berkeley; Single; Mechanic and Student; YCL; Received Passport# 24837, San Francisco series, on February 19, 1937 which listed his address as 2530 Bennenne Avenue, Berkeley, California; Sailed March 10, 1937 aboard the
Washington
; Arrived in Spain on March 22, 1937; Served with the Spanish Intendencia; WIA in Almeria during German naval bombardment; Remainder of his time in Spain was spent in hospitals recovering from wounds; In June 1937 he was in Fortuna; Returned to the US on February 23, 1938 aboard the
Champlain
; Graduated from the University of California Berkely in 1940 with a BA in Letters and Science (Engineering); WWII civilian; d. November 5, 2009, El Cerrito, Contra Costa, California.
---
Siblings:
brother Robert M. Billings (1907-?), sisters Janice Elizabet Billings (1919-1988) married vet Don MacLeod; Frances Billings, and Marian Billings.
---
Source:
Sail; Scope of Soviet Activity; Cadre; Inventory North Americans; Repatriation List (2/14/1938, ll. 111); RGASPI Fond 545, Opis 6, Delo 984, ll. 2; Harriman; "Berkeley Gives Degrees to Two."
The San Bernardino County Sun
, March 3, 1940, p. 14; L-W Tree Ancestry. Code A
---
Marcus Billings Interview
, ALBA V 48-018, July 24, 1985, Manny Harriman Video Oral History Collection; ALBA VIDEO 048; box number 2; folder number 23; Tamiment Library/Robert F. Wagner Labor Archives, New York University.
---
---
Photograph:
Marcus Billings. Photograph courtesy Marcus Billings; and below Redlands High School Graduation 1933 yearbook, L-W Tree Ancestry.; Mark Billings, by Richard Bermack.
---