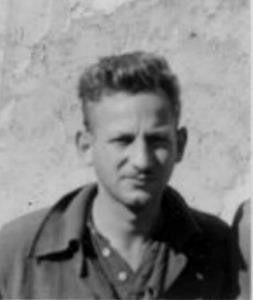 Biography
Alper, Marcus Mordecai
b. November 8, 1910, Newark, New Jersey; father Morris Alper, Mother deceased; 3 brothers, 1 sister; Graduated from Brookline High School then Brown University, class of 1933, BA in English Literature, Pi Lambda Phi Fraternity, Phi Chapter 1930, Vice-President 1932-1933; Single; Salesman; Not a party member or CP; Received Passport# 365580 (365500) on February 4, 1937 which listed his address as 27 Egmont Street, Brookline, and 39 Tavern Road, Boston, Massachusetts; Paid his own way to Spain; Sailed February 10, 1937 aboard the
Washington
; Arrived in Spain on February 19, 1937; Served with the 86th BDE, 20th BN, Co. 2 from March to July 1937; OTS Pozo Rubio July 20-August 25, 1937; Albacete Auto Park, Transport, August 25 to September 30, 1937; XV BDE, EM, Scouts, October 8, to December 24, 1937; moved to EM, Efectivos (personnel) December 24, 1937 to September 25, 1938; Served at Chimorra and La Ganja at Poz Blanco on the Cordoba Front, Fuentes de Ebro, Teruel; Returned to the US on December 15, 1938 aboard the
Paris
; WWII US Army Air Force, Instructor, Gunnery School, Tyndall Field, Florida; 8th Air Force Tail gunner; Flew 35 mission over Germany, rank Staff Sergeant; d. May 26, 2000, Brookline, Massachusetts.
---
Source:
Sail; Scope of Soviet Activity; Inventory North Americans; Pay; XV BDE; RGASPI Fond 545, Opis 6, Delo 856, ll. 58-70; Harriman; ARP Survey; (obituary)
The Volunteer
, Volume 22, No. 3, Summer 2000, p. 20; L-W Tree Ancestry L-W Tree. Code A
---
Obituary
Born in Newark, Alper spent his early childhood in Mexico City, Texas, and Cuba, attended Brookline High School, and graduated from Brown University in 1933. He fought with the Lincolns in 1937 and 1938. During World War II, Alper taught aerial gunnery and aircraft recognition in Florida and Wyoming, then served with the 8th Air Force in England and flew 35 missions over Europe as a tail gunner in B-24 bombers. After World War II, Alper rejoined his family food brokerage, where he worked until his retirement in 1969. During the McCarthy era, he appeared as an unfriendly witness before the House Committee on Un- American Activities and the Joint Investigative Committee of the Massachusetts House and Senate. He remained a lifelong supporter of progressive ideals and causes. Marcus Alper of Brookline, Massachusetts, a Lincoln vet and retired food broker, died in May 2000 at the age of 89.
---
Alper, Marcus Interview
, ALBA V 48-006 (Mixed Materials);  September 1, 1985; ; Manny Harriman Video Oral History Collection; ALBA VIDEO 048; box number 1; folder number 23; Tamiment Library/Robert F. Wagner Labor Archives, New York University.
---
Photographs:
Marcus Alper in Spain. two from RGASPI Fond 545, Opis 6, Delo 856.
---