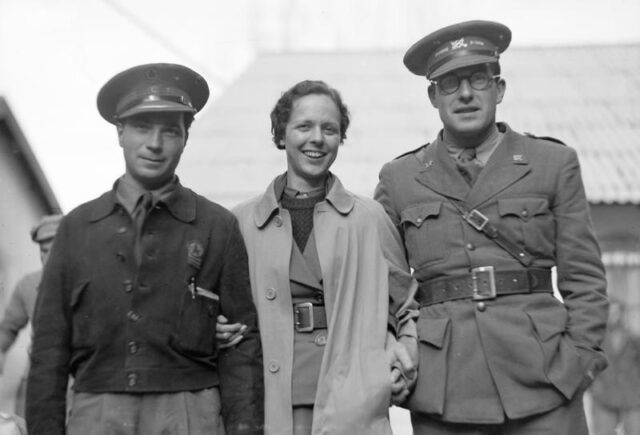 Biography
Merriman, Marion
. (Frances M. Merriman); b. August 18, 1909, California; Graduated with a BA from the University of Nevada, Married to Robert H. Merriman (Maiden name Stone); Came to Spain from the Soviet Union after her husband was wounded at Jarama; Served in Spain with the XV BDE, as a Staff Private later promoted to Adjutant; She worked on personnel and Brigade records; Returned to the US on December 22, 1937 aboard the
Manhattan
; d. December 1991, Palo Alto, California, Wrote
American Commander in Spain
, with Warren Lerude.
---
Sources:
Repatriation List ( 11/30/1937, ll. 45); (obituary)
New York Times
, "Marion Merriman Wachtel, Author, 82." December 12, 1991; L-W Tree Ancestry. Code A
---
Photograph:
Dave Doran, Marion Merriman and Robert Hale Merriman. The 15th International Brigade Photographic Unit Photograph Collection; ALBA Photo 11; ALBA Photo number 11-1324. Tamiment Library/Robert F. Wagner Labor Archives. Elmer Holmes Bobst Library, 70 Washington Square South, New York, NY 10012, New York University Libraries.; Marion Wachtell-Merriman, 1985, by Richard Bermack.
---