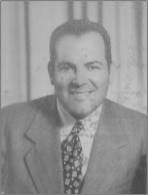 Biography
Marrero Núñez, Julio b. November 2, 1910, San Juan, Puerto Rico; Puerto Rican; Single; Philosophy Student in Madrid; Domicile Madrid; Returned to the US on January 6, 1937 aboard the Schodock; Continued on to Puerto Rico arriving January 13, 1937 aboard the San Jacinto; Worked as a Division Chief for the Puerto Rico Reconstruction Act (PRRA), later with the National Parks in San Juan; d. February 12, 1982, San Juan, Puerto Rico.
---
Sources: L-W Tree Ancestry; Alejandro Ortiz Carrión and Teresita Torres Rivera, Voluntarios de la Libertad, Puertorriqueños en Defensa de la República Española 1936-1939.  Code A
---
Photograph: Julio Marrero Núñez post Spain, L-W Tree Ancestry.