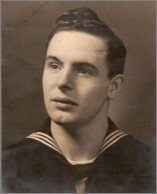 Biography
Yemendijan, Marshall (Yermendijan; Shoemaker, Marshall; Marshall, Ydemendjian) b. March 15, 1916 Philadelphia, Pennsylvania; Father Arsen Yemendijan (1890-?), mother Viola Van Hoff (1888-1918); 2 years of High School; Prior service in the US Army, Pennsylvania National Guard, 155th Regiment of Artillery, 1931-34; Single; Farmworker, Textile Worker, and Taxidermist; CP and CP of Spain, JSU October 1938; Received Passport# 473435 on August 27, 1937 which listed his address as 4614 Decatur Street, and 7522 Duogen Road both Philadelphia, Pennsylvania; Sailed September 8, 1937 aboard the Manhattan; Arrived in Spain via Massanet on October 13, 1937; Trained with the XV BDE Instruction BN; Served with the 35th Battery, 4th Grupo; American AT Section in 129th BDE, from February 20, 1938 until August 27, 1938; Medic; Rank Soldado; Served at Teruel, Retreats, and Levante; Returned to the US on February 4, 1939 aboard the President Harding; WWII US Navy, entered service April 25, 1944 discharged January 18, 1946; d. September 4, 1997, under the name Marshall Shoemaker in Pasco, Florida.
---
Siblings: sister Viola Yemendijan (1918-?).
---
Sources: Sail; Scope of Soviet Activity; Cadre; Figueres List (under Marshall, Ydemedjian); RGASPI; Obituary The Tampa Tribune, September 10, 1997. Code A
---
Photograph: Marshall Yemendjian, US Navy. Ancestry.com, Tentative id.