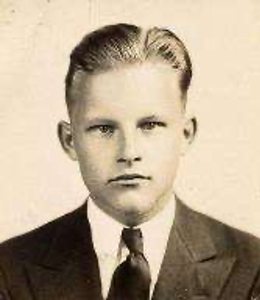 Biography
Maki, Martin David
. b. July 4, 1911, Newberry, Michigan; Finnish American; POW; Single; Journalist, Laborer and Organizer; CP and YCL, state executive for YCL; Received Passport# 396443 on April 22, 1937 which listed his address as 1627 North 6th Street, Minneapolis, Minnesota and Superior, Wisconsin (Box 124 Newberry, Michigan); Sailed May 4, 1937; Arrived in Spain on May 30, 1937; Served with the XV BDE, Washington BN, MG Co., Section 3; Lincoln-Washington, MG Co., the Toivo Antikainen MG Section which included 21 men under Nilo Kruth the section leader: Squad 1: Toivo Suni, Commander, Carl Syvanen, Yrjo Keinanen, Waino Hamalainen, Alexius Salo, Raisanen, Sulo Niemi, Pyhatalo and Tanttila, acting Political Commissar; Squad 2 Henry Buska also Section Leader, Matti Haukkala, John Viitaniemi, Kerkkonen, Anttila, Matti Maki, Huosionmaa, and Jussi Savikko; Squad 3 Frans Pakkala, commander of squad, squad included other nationalities and the Lincoln-Washington BN; Served at Brunete, and was cited for distinguished service; WIA Fuentes de Ebro; Rejoined Lincoln- Washington BN; Rank Cabo; Reported MIA Retreats, Gandesa; Captured April 3, 1938; Released April 22, 1939; Returned to the US on May 6, 1939 aboard the
President Harding
; WWII US Army, joined May 25, 1942 and served stateside in a number of unit including 166th Infantry BN; He later went to Europe arriving February 1945 and fought with the 26th Infantry "Yankee" Division in France, Germany, Austria and Czechoslova; (Geiser notes ran a Polish POW camp); Rank SGT; d. May 22, 2001, Annandale, Minnesota, buried in Fort Snelling National Cemetery, Minneapolis, Minnesota.
---
Sources:
Sail; Scope of Soviet Activity; Cadre; BN 58 Retreats; Washington; RGASPI Fond 545, Opis 6, Delo 942, ll. 32 (voir arch gen); ; USSDA 2:0744, 57:0284; Finnish; POW; Find-a-Grave 72508272; Martin Maki, "Venga, Venga" [describing the battle of Purbell Hill]; (obituary)
The Volunteer
, Vol. 23, No. 3, p. 22; MPE. Code A
---
Photograph:
Martin Maki just before Spain and during WWII, Photo courtesy University of Minnesota and Maria Maki. ALBA/VALB.
---