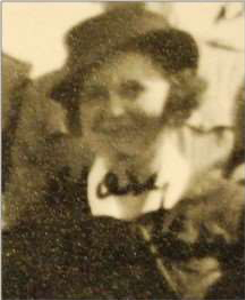 Biography
(Mary Rader Ochs; Day; Gaerity); b. September 25, 1897, Welchburg, Kentucky; AMB; Father Elisha Smith Rader (1868-1949), mother Ollie Francis Ponder (1877-1915); Married William B. Ochs (1884-1964) on December 18, 1934; Trained at Lakeside Hospital in Chicago, Illinois; Separated; Nurse; Non-Party, asked to join in Spain; Received Passport# 452063 on June 26, 1937 which listed her address as 4000 Washington, Chicago, Illinois; Sailed June 30, 1937 aboard the
Aquitania
; Arrived in Spain on July 19, 1937; Served with the Medical Services, was at the hospital in Vadleganga after the evacuation of Vich; Left Spain in August 1938; Returned to the US on August 30, 1938 aboard the
Aquitania
; Briefly worked at Commonwealth College in Mena, Arkansas; Married fellow veteran Harvey J. Day (1904-1992) on February 7, 1961 in Los Angeles, California; d. April 9, 1968, buried in Liberty Cemetery, Egypt, Jackson County, Kentucky (under Mary Jane Rader Gaerity, though her SSN death notice showed her still using Day). [Came to Spain to find her estranged husband?]
---
Siblings:
Marth Belle Rader (1899-1912), Carlo May Rader (1902-1975), Margaret L. Rader Scott (1905-1999), Laura Rader (1911-1923), Dora June Rader Barker (1915-2011); Half-brothers Herman Rader (1917-2004), Harold Rader (1919-1974).
---
Sources: 
Sail; Scope of Soviet Activity; RGASPI Fond 545, Opis 6, Delo 967, ll. 20-22; L-W Tree, Ancestry.com; Find-a-Grave#165225825. Code A
---
Photograph:
Mary Rader from a group photograph of the 3rd American Medical Bureau group aboard the
Aquitania
; FM Collection.