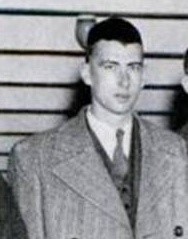 Biography
Conway, Maurice
(Michaels, Morris; Cohen, Maurice); b. April 21, 1908, Olympia, Washington; Irish American; POW; Father Michael Conway (1869-1915), mother Catherine Machin (1877-?); Attended California Theological School; Single; Student and Marine Carpenter; Received Passport# 464631 on July 23, 1937 which listed his address as San Francisco, California, and 58 South Oxford, Brooklyn, New York; Sailed July 28, 1937 aboard the
Queen Mary
; Arrived in Spain via Espolla on August 8, 1937; Served with the XV BDE, Lincoln-Washington BN; Later to BDE, Service Sanitaire; Captured Gandesa, Retreats; Exchanged October 8, 1938; Returned to the US on October 18, 1938 aboard the
Queen Mary
; WWII Merchant Marine; d. February 18, 1946, NYC (suicide or murder, his body was found in the East River).
---
Siblings:
brother Thomas Joseph Conway (1906-?), sister Mary Conway Philumalee (1910-1980).
---
Source:
Sail; Scope of Soviet Activity; Figueres List; XV BDE, Pacific NW. Code A
---
Photographs:
Maurice Conway from a photograph of returning POWs aboard the Queen Mary and below two photographs from his Seaman's Certificate 1935.
---