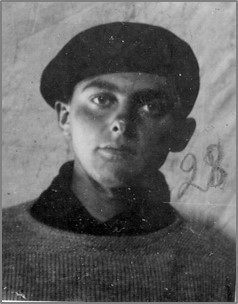 Biography
Colow, Maury
(Kolow, Morris); b. September 13, 1917, Brooklyn, New York; Student; YCL and CP 1937; Received Passport# 6980, New York series, on February 5, 1937 which listed his address as 416 Livonia Avenue, Brooklyn, New York; Arrived in Spain on February 17, 1937; Served with the 86 BD, 20th BN, Co. 2, Section Leader, later replaced by Hugh Bonar, March 17, 1937 to November 22, 1937; XV BDE, Mackenzie-Papineau Battalion, Company 1; Returned to the US on December 20, 1938 aboard the
Ausonia
; WWII US Navy; d. January 9, 1993, Woodstock, New York.
---
Source:
Scope of Soviet Activity; RGASPI (under Kolow); ALBA 149 Maury Colow Papers; Good Fight C; Harriman; L-W Tree Ancestry. Code A
---
Maury Colow Interview,
ALBA V 48-033, September 25, 1986, Manny Harriman Video Oral History Collection; ALBA VIDEO 048; box number 23; folder number 3; Tamiment Library/Robert F. Wagner Labor Archives, New York University.
---
I Didn't Shoot Him – by Maury Colow
, reprint, The Volunteer Blog, posted January 6, 2015.
---
Photographs:
Maury Colow in Spain, RGASPI Fond 545, Opis 6, Delo 924, and below from a group photograph taken during the opening day of the Ebro Offensive, ALBA/VALB.
---