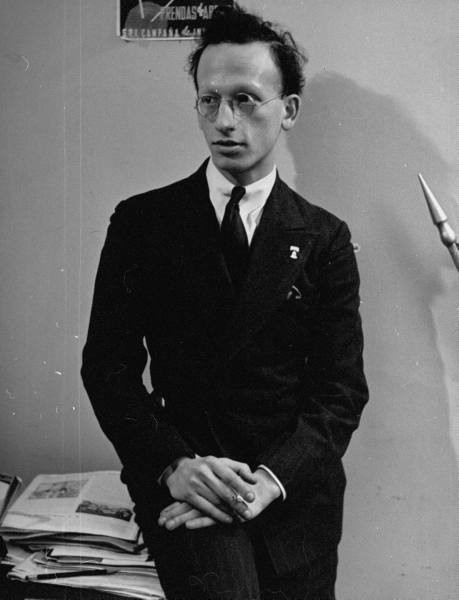 Biography
Klonsky, Robert
(Klonsky, Ruben; Klonsky, Max); b. March 12, 1918, Brooklyn, New York; Father Louis Klonsky (1885-?), mother Beckie Bella Bereskowsky (1887-?); Single; No party affiliation; He traveled to Spain using his brothers information under the name Max for his passport; Received Passport# 364782 on February 1, 1937 which listed his address as 729 Howard Avenue, Brooklyn, New York; Sailed February 6, 1937 aboard the
Paris
; Served with the XV BDE, Lincoln BN; Arrived at the front on February 26; Served at Jarama; Repatriated late summer-early fall 1937 due to his age; Returned to the US on September 24, 1937 aboard the
De Grasse
; WWII Armed forces; Wife Helen Klonsky, son Fred Klonsky; d. September 7, 2002, Chicago, Illinois, cremated and ashes spread in the ocean off Sitges.
---
Siblings:
brothers Nathan Klonsky (1909-?), Benjamin Benni Beng Klonsky (1913-?), Abraham Klonsky (1920-?), sister Sylvia Klonsky (1920-?).
---
Source:
Sail; Scope of Soviet Activity; Lincoln; RGASPI Fond 545, Opis 6, Delo 849, ll  23, List of American Comrades that have been Repatriated as per October 15 1937; USSDA 2:0689, 56:0574; ALBA 219 Robert Klonsky Papers; (obituary)
The Volunteer
, Volume 24, No. 4, December 2002, p. 21; L-W Tree Ancestry.  Code A
---
Biography:
Robert Klonsky was born March 12, 1918 and grew up in the Brownsville section of Brooklyn, NY, in a garment worker's family of Russian Jewish descent. He sailed for Europe, traveling under the name Max Klonsky, on February 5, 1937 and arrived in Spain in time to fight with the Abraham Lincoln Brigade in the Battle of Jarama in the same month. He later took part in the Battle of Brunete and, suffering ill health, left Spain in October 1937. Klonsky served in World War II, where he saw action in Saipan and Okinawa, and after the War settled in Los Angeles, where he was active in the Communist Party of California and in many campaigns for peace, civil rights and human rights (especially in Latin America). For some years he ran a bookstore near the UCLA campus; the store was destroyed by arsonists, who painted swastikas on its wall. He worked closely with the Hollywood Ten and others who were subject to government investigation for "subversive" activity. In the 1950s he was tried under the Smith Act, was convicted of "conspiring to advocate Marxist views," and served time in prison. The case was eventually overturned by the Supreme Court. After forty years in California he moved to Santa Fe, NM. An article describing his experiences in Spain and his later political activity,
"Alma sin Fronteras" (Soul without Frontiers) by Floyce Alexander
, appeared in the Albuquerque (NM) Journal on May 12, 1987. The article includes a dramatic account of the death in Spain of his friend, Boston volunteer John Lenthier. Robert Klonsky died in Chicago on September 7, 2002. - Courtesy Tamiment Library, NYU.
---
Robert Klonsky and Walter Lowenfels were defendants in a trial in the mid-1950s of nine Philadelphia members of the Communist Party. They were convicted in 1954 of violating the Smith Act, which outlawed "teaching or advocating the overthrow of the American government by force." He served over a year at the federal penitentiary at Allenwood, Pennsylvania, before the Justice Department withdrew charges in 1958. After 1958, Klonsky lived in California, where he ran a bookstore near UCLA and where he remained active in organizing workers in the film industry. His son Michael Klonsky also became active in politics, becoming a national secretary of the Students for a Democratic Society and later leader of the Communist Party (Marxist-Leninist). Robert Klonsky supported jailed professor Angela Davis, demonstrated against the Vietnam War, and had a few acting parts in movies. Courtesy of Wikipedia.
---
Robert Klonsky was married for over 35 years to Helen Klonsky, a political activist in her own right. They met after his return from Spain when she was working in the NY office of the Abraham Lincoln Brigade. Robert had two sons both continue to be, politically active and proud of their father's history as a Lincoln Volunteer. -Submitted by Fred Klonsky, son of Robert Klonsky
---
Photograph:
Robert Klonsky photograph by Peter Stackpole for
Life Magazine.;
Bob Klonsky, 1989, by Richard Bermack.
---