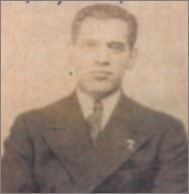 Biography
k-Weil, Max b. February 23, 1916, NYC; Polish American; Father Frank Weil (b. 1899 Warsaw, Poland); Mechanic; Received Passport# 495919 on February 1, 1938 which listed his address as 100 West 88th Street, NYC; Arrived in Spain via Agullana on February 16, 1938; Served with the XV BDE, Lincoln-Washington BN; Rank Soldado; Reported MIA between March 30 and April 3, 1938 near Gandesa during the Retreats.
---
Sibling: sister Florence Weil.
---
Sources: Scope of Soviet Activity; BN 58 Retreats; Figueres List; USSDA 2:1031, 61:0732; L-W Tree Ancestry. Code A
---
Photograph: Max Weil Passport Photograph.