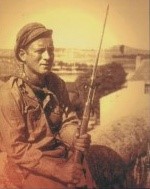 Biography
Goldstein, Maynard (Maynard King, Isaac Meyer); b. December 2, 1913, Bronx, NY; Jewish; Graduated from New York University, 1936 where he studied Journalism and Advertising; Single; Unemployed but doing some work as an accountant in his father's clothing business; CP 1935; Sailed February 20, 1937 aboard the Ile de France; Served with the XV BDE, Lincoln BN; Served at Jarama; Later Attached to Division SIM (along with Frank Ryan) during Brunete, Quinto and Belchite; Walked out of Spain with Murry Schwerner over the Pyranees; Returned to the US on November 16, 1937 aboard the Veendam; WWII Civilian; Ran an advertising agency; d. January 12, 2011, NYC, Wife Kate Goldstein.
---
Sources: Lincoln; USSDA 2:0587, 54:0950; Harriman; Find-a-Grave# 64219643. Code A
---
Photograph: Maynard Goldstein. Photograph by Sam Walters courtesy Harry Fisher.