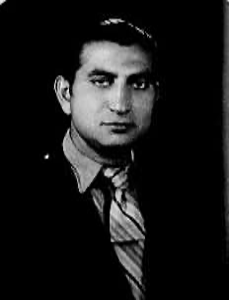 Biography
Thomaidas, Menas. (Mina, Thomas); b. May 15, 1903; Pontus, Greece (Turkey), Left Greece in 1914; Greek American; No prior military service; Married; Metal Worker and Mechanic; CP 1930, Organizer, Spanish CP, Spartacus Club; Was in Russia from 1931 to 1936 then back to the US; Received Passport# 360614 which listed his address as 269 W. 25th Street, NYC; 35 years old; Sailed January 16, 1937; Arrived in Spain on January 30, 1937; Served with XV BDE, later to a Tank unit, as a sub-lieutenant or SGT; Served at Brunete, Guadalajara, El Pardo, Teruel, Caspe, and Gandesa; Returned to the US on October 25, 1938 aboard the Ile de France; d. Pontiac, Michigan; Noted as his tank being the first to enter Teruel.
---
Sources: Cadre (under Mina); RGASPI; Fond 545, Opis 6, Delo 417, ll. 39-51 (under Mina); Greek; L-W Tree Ancestry.
---
Photograph: Thomas Mina in Spain, RGASPI Fond 545, Opis 6, Delo 417.