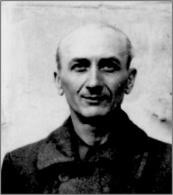 Biography
Meyers, Karl Albert (Wohlkopf, Carl Albert); b. May 23, 1889, Gestemunde, Germany, to US 1906, Naturalized; Elementary education to 8th grade; Served in the US Army; Hotel Worker; Socialist Party 1915-17, CP 1930; Domicile 3820 West Vilar Avenue, Milwaukee, Wisconsin; Sailed for Spain in May 1937; Arrived in Spain via Espolla on June 2, 1937; Served with the XI BDE, Instructor; Later in BDE Anti-tank battery; Served at Jarama, Brunete, Quinto, Belchite, Aragon, and Teruel, WIA January 18, 1938 in head a Teruel; Returned to the US on August 26, 1939 as a stowaway aboard the President Harding; He was deported on December 8, 1939 aboard the Santa Clara.
---
Sources: Figueres List; RGASPI Fond 545, Opis 6, Delo 947; L-W Tree Ancestry.  Code A1
---
Photograph: Carl Meyers in Spain, RGASPI Fond 545, Opis 6, Delo 947.