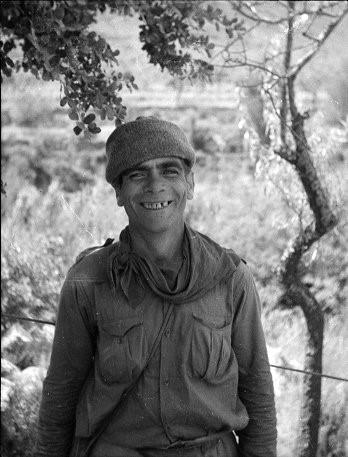 Biography
Pavlos, Mike Emanuel
. (ΠΑΥΛΟΥ; Mihael); b. February 15, 1896, Greece, To the US in 1913; Greek American; Elementary education; Married (Single); Cook; CP 1931; 36 years old; Domicile 537 N. 3rd Street, Cambridge, Ohio; Sailed May 12, 1937 aboard the
Aquitania
; Arrived in Spain on June 6, 1937; Served with the XV BDE, Estado Mayor Kitchens, Chief Cook; Later with Mackenzie-Papineau BN, Kitchens; In June 1938 he was in the Lincoln-Washington BN as a practicante; Served at Fuentes de Ebro, Teruel, Seguro de los Banos, and Ebro Offensive; WIA by stone at Ebro; Paleologopoulos and Tsermegas indicate that Pavlos went to the Soviet Union after leaving Spain and disappeared during the Stalin purges.
---
Sources:
Cadre; RGASPI Fond 545, Opis 6, Delo 570, ll. 47-48; 960 and Delo 419; D. Paleologopoulos
Greek Antifascist Volunteers in the Spanish Civil War (1936-39)
, Athens 1986; Steve Tsermegas and L. Tsirmirakes,
No Pasaran. Greek Antifascist Volunteers in Spain
, Athens 1987.
---
Photographs:
Michael Pavlos, RGASPI Fond 545, Opis 6, Delo 960; and, Lincoln-Washington Practicante, June 1938. The 15th International Brigade Photographic Unit Photograph Collection; ALBA Photo 11; ALBA Photo number 11-0046. Tamiment Library/Robert F. Wagner Labor Archives. Elmer Holmes Bobst Library, 70 Washington Square South, New York, NY 10012, New York University Libraries.
---