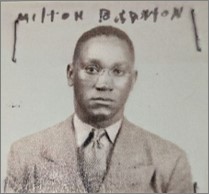 Biography
k-
(Braxton) b. March 9, 1908, Wyoming, Ohio; African American; Father Paul Braxton (1885-1918), mother Harriet A. "Hattie" Herndon (1890-1965); 2 years High School; Prior military service in the National Guard for 1.5 years; Single; Steel Worker and Laborer; CP 1934 and YCL 36; Received Passport# 393028 on April 19, 1937 which listed his address as 133 West 140
th
Street, NYC; Sailed May 8, 1937 aboard the
American Importer
; Arrived in Spain via Massanet on May 31, 1937; Served with the XV BDE, Mackenzie-Papineau Battalion, MG Co., section leader; Killed in action October 13, 1937 at Fuentes de Ebro.
---
Siblings:
brothers Hilliard Frank Braxton (1907-1950), Leroy M. Braxon (1908-?), Bishop Leo Braxton (1912-1988), Eugene Angelo Braxton Herndon (1913-1997), sisters M. Lola Braxton (1909-?), Lizzie Liffridge, Nathaniel Braxton.
---
Sources:
Scope of Soviet Activity; Americans and Canadians Killed in Spain Complete list to November 15, 1937; Figueres List; Mac-Paps; RGASPI Fond 545, Opis 6, Fond 543, ll. 111 (under Braxton, fiche); Opis 6, Delo 909, ll. 20 (fiche); USSDA 2:0640, 55:0753; African Americans; L-W Tree Ancestry. Code A
---
Biography: 
Milton Braxton, was the brother of Angelo Herndon a Communist organizer who came to national notice after he was charged with "incitement to insurrection" and sentenced to death in Georgia in 1932. The conviction was eventually overturned on appeal. Milton Braxton was born on March 10, 1908, in Wyoming, Ohio to Paul Herndon, a coal miner, and Harriet Braxton, a maid. Herndon completed two years of high school. Braxton was a steel worker. By the mid-1930s he had joined the Communist party and become an organizer in Chicago. He departed for Europe aboard the
American Importer
on May 8, 1937. In Spain, Braxton, who had served one and a half years in the National Guard, became section leader in the newly formed Mackenzie-Papineau Battalion. During the Mac-Paps first action on October 13, 1937, at Fuentes de Ebro, Braxton was ordered to move a machinegun up to support the advance of the Battalion and in carrying out the order was killed along with his entire gun team by long-range machine gun fire. ~ Chris Brooks
---
Photograph:
Milton Braxton Passport Photograph, and Milton Herndon. Brooks collection.