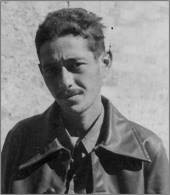 Biography
Konove, Milton b. June 6, 1916 (1915), Brooklyn, New York; Russian American; Father David Konovalsky (1887-1946), mother Nina Brown (1896-1919); Dental Technician; CP 1936 and YCL 1934-1936; Received Passport# 527234 on May 7, 1938 which listed his address as 113 Bay Street, and 2068 East 24th Street, both Brooklyn, New York; Arrived in Spain via Massanet on May 27, 1938; Served with the XV BDE, Lincoln-Washington BN, Co. 2; Rank Soldado; Returned to the US on December 20, 1938 aboard the Ausonia; WWII, enlisted in the US Army on December 6, 1944, discharged December 8, 1945; Married Grayce A. Schoolfield (1921-?) on December 31, 1951 in Los Angeles, California, two children; d. September 22, 1972 Los Angeles, California.
---
Siblings: brothers Bernard Alfred Konove (1914-2003), sister Lucille Konove (1912-1998).
---
Source: Scope of Soviet Activity; Figueres List; Pay; RGASPI; L-W Tree Ancestry.  Code A
---
"He left for Spain in January 1938, crossing over the Pyrenees and was assigned to Spanish units as a machine gunner. Later during the year he was in Spain, he was attached to the Lincoln Brigade. After he left Spain in March 1939, he joined the RCAF, became a pilot and in 1944 transferred to the USAF." - Lisa Konove
---
Photograph:  Milton Konove in Spain, RGASPI Fond 545, Opis 6, Delo 924.