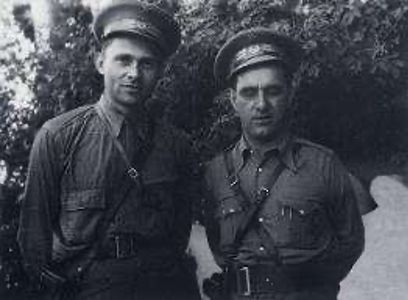 Biography
Markovics, Mirko
. (Jose Porra Spolea; Markovicz; Markovich); b. 1907, Stijene, Podgorica, Montenegro; Serbian American; Doctorate in Economics from KUNMZ and the Military Academy in the Soviet Union, Commissar in the Red Army with the Rank of Lieutenant; Married; Party Functionary; CP of Yugoslavia (CPY) 1923-1926, CP Soviet Union 1926-1935, CP US 1935; Sent to the US in 1935 by the CPY where he headed the CPUSA's Serbian Section and the Yugoslav Coordinating Bureau; Domicile 5 Chartura 101, Moscow Russia; Arrived in Spain on April 20, 1937; Served with the XV BDE, Washington BN, Commander; Commanded the merged Lincoln-Washington BN until he was relieved for refusing to order his troops into what he considered an exposed position; Later served as a staff officer; Rank Capitan; Returned to the US on October 10, 1938 aboard the
Normandie
and was held at Ellis Island, then deported to Cuba, later back in the US, Post WWII he returned to Yugoslavia and taught Economics at the University of Belgrade; Imprisoned in 1949 for supporting anti-Tito resolutions; d. 1988, Yugoslavia.
---
Sources:
Cadre (under Markovitch); Washingtong; RGASPI (under Markovich); South Slav; Spisak, in Spanija, 5 : 543; Mirko Markkovic,
Dani nezaboravni: Uspomene jednog Interbrigadiste iz Spanije (Unforgettable Days: Memoirs of an Interbrigadist From Spain)
, Cetinje: 1973.
---
Photographs:
Mirko Markovics and Vladimir Copic; International Brigade Archive, Moscow: Select Images, Folder 188: Commanders of the 15th International Brigade, 1937-38, Box 1, Folder 3; ALBA Photo 177; ALBA Photo number 177-177068. Tamiment Library/Robert F. Wagner Labor Archives. Elmer Holmes Bobst Library, 70 Washington Square South, New York, NY 10012, New York University Libraries.; and Martin Hourihan and Mirko Markovics, Folder 191, Box 2, Folder 17, 177-191043; Markovics with Regimental Adjutant Martin Hourihan.
---