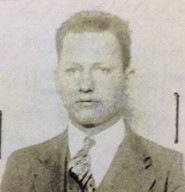 Biography
k-Krangel, Morris (Krengel, Murray; Krange, Micheal); b. May 21, 1910; Russian American; Father Abraham Krangel (b. 1876, Russia); CP 1933 or Anti Fascist; Received Passport# 365916 on February 6, 1937 which listed his address as 406 South 4th Street, Brooklyn, New York; Sailed February 10, 1937 aboard the Washington; Arrived in Spain on February 21, 1937; Attended OTS then to XV BDE, Washington BN, Co. 3, Section 3, Section Leader, Sargento; Lincoln-Washington BN, Co. 3; Deserted on September 14, 1937 after Brunete along with Sol Feldman, John Hunter, and Henry Plotnick, they went to Albacete to request repatriation and were sent back to the BDE; Killed in action October 13, 1937, Fuentes de Ebro.
---
Source: Scope of Soviet Activity; Americans and Canadians Killed in Spain Complete list to November 15, 1937; Washington; RGASPI; USSDA.
---
Photograph: Morris Krangel, Passport Photograph.