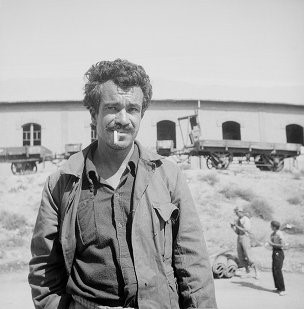 Biography
Fishman, Morris Simon (Fischman, Moische); b. April 8, 1903, Lakatchi, Russia; To the US May 30, 1906, aboard the Carmania, Naturalized; Russian American; Mother Doris Fishman; High School education; Single; Seaman (NMU), Actor, Electrician, Restaurant Worker, and Clerk; CP 1930 (1929) Unit Organizer; Received Passport# 17133, San Francisco series, on March 21, 1936 which gave his address as 4915 (4015) Perry Street, Los Angeles, California, and NYC; Sailed March 24, 1937, aboard the Manhattan; Arrived in Spain on May 16, 1937; Trained with Mackenzie-Papineau BN; Transferred as a replacement to the XV BDE, Lincoln-Washington BN, Transmissions; Served in the Aragon through Fuentes del Ebro; Later in BDE transmissions; Returned to the US on March 9, 1938, aboard the Paris; WWII Merchant Marine, killed February 3, 1943, when his ship the Dorchester was sunk; Fishman was a Waiter aboard the ship.
---
Sources: Sail; Scope of Soviet Activity; Cadre; XV BDE; Mac-Paps; RGASPI; American Merchant Marine at War, www.usmm.org; L-W Tree Ancestry.   Code A1
---
Photograph: Morris Fishman, Transmiciones, September 1937. The 15th International Brigade Photographic Unit Photograph Collection; ALBA Photo 11; ALBA Photo number 11-0613. Tamiment Library/Robert F. Wagner Labor Archives. Elmer Holmes Bobst Library, 70 Washington Square South, New York, NY 10012, New York University Libraries.