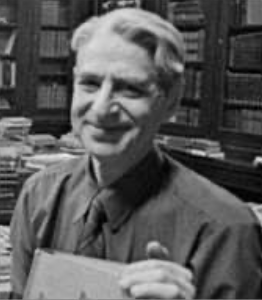 Biography
Dauber, Murray b. September 16, 1917 (ship registry indicates February 23, 1911, NYC); Father Samuel Dauber (1882-1965), mother Gertrude Singer Dauber (1900-?); Clerk; Domicile 66 5th Avenue, NYC; CP 1934; Sailed January 28, 1937 aboard the Aquitania; Arrived in Spain on February 10, 1937; Served with the XV BDE, Lincoln BN; WIA Jarama; Repatriated medical; Returned to the US on July 22, 1937 aboard the President Roosevelt; d. September 16, 2009, Savannah, Georgia (December 1975); Listed in Liam Tumlinson's diary as MG Co. killed at Jarama.
---
Source: Americans, RGASPI Fond 545, Opis 6, Delo 849, ll 20, List of American Comrades that have been Repatriated as per October 15 1937; L-W Tree Ancestry. Code A
---
Photograph: Murray Dauber, Photographed in his bookshop, undated, Alagna.