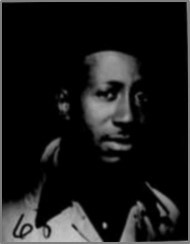 Biography
Nance, Youngblood
b. May 1, 1912, Greenwood, South Carolina; African American; father Leroy Wallace Nance (1878-1940), mother Angelina Nance (?-1920); Attended University, studied History, member Zi Kappa Zi; No prior military service; Single; Carpenter; CP January 1938; Received Passport# 5756689 on August 10, 1938 which listed his address as 513 Hackett Street, Greenwood, South Carolina, and 471 West 145th Street, NYC; Sailed August 22, 1938 aboard the
President Roosevelt
; Arrived in Spain via Massanet on August 31, 1938; Served with the XV BDE, Lincoln-Washington BN, Co. 4; Served at the Ebro Offensive from September 15 to September 22; WIA September 25, 1938, concussion from bomb; Returned to the US on December 20, 1938 aboard the
Ausonia
; Married Lorraine Garneau on January 18, 1945 in NYC; d. September 29, 1965, NYC.
---
Siblings:
brother Odell Nance (1905-?), sister Sara Nance (1907-?).
---
Sources:
Sail; Scope of Soviet Activity; Figueres List; RGASPI Fond 545, Opis 6, Delo 952, ll. 47-50; Opis 6, Delo 1017, ll. 68-73; USSDA (under Nance, Young B.) 2:0784, 57:0861; (Obituary)
The Index-Journal
, October 2, 1965; African Americans; L-W Tree Ancestry. Code A
---
Biography
Youngblood Nance was born in Greenwood, South Carolina, on May 1, 1912. Before leaving for Spain, he lived in New York where he worked as a carpenter and was an active member of the Communist Party. One of the last U.S. volunteers to serve in war, he arrived in Spain on August 31, 1938. He received approximately three weeks training before going to the front where he served in the Lincoln-Washington Battalion. On September 22, he was wounded while advancing during a counter attack. Nance returned from Spain aboard the Ausonia arriving in the United States on December 20, 1938. After the war he became a seaman and served as a ship's steward. Nance briefly ran a steak house in New York together with his wife, Lorraine, a French Canadian. After a fire destroyed their restaurant, Nance returned to sea. Nance died at sea on September 29, 1965. ~ Chris Brooks
---
Photographs:
Youngblood Nance in Spain RA Fond 545, Opis 6, Delo 1017 and below, Nance as seaman in the 1950s, Fredericka Martin collection. Tamiment Library/Robert F. Wagner Labor Archives. Elmer Holmes Bobst Library, 70 Washington Square South, New York, NY 10012, New York University Libraries.
---