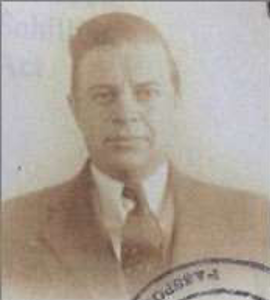 Biography
k-Schilling, Nathan Meyer
. b. March 3, 1913, Chicago, Illinois; Polish American; Father Max Shmuel Schilling (1899-1987), mother Tillie Rubinfield Schilling (1894-1956); Attended Tuley HS, Graduated from the University of Chicago; Married; Chemist; CP; Received Passport# 383016 on April 2, 1937 which listed his address as 5610 Dorchester Avenue, Chicago, Illinois; Sailed May 15, 1937 aboard the
Georgic
; Arrived in Spain via Espolla on June 11, 1937; Served with the XV BD, Mackenzie-Papineau Battalion; Sniper; KIA October 13, 1937, Fuentes de Ebro.
---
Sibling:
sister Roselyn Marcella Feuerstein (1917-2010).
---
Sources:
Scope of Soviet Activity; Figueres List; Mac-Pap; RGASPI; Harriman.
---
Photographs:
Nathan Schilling, Passport Application, 1937, and Photograph Newspaper Clipping.
---