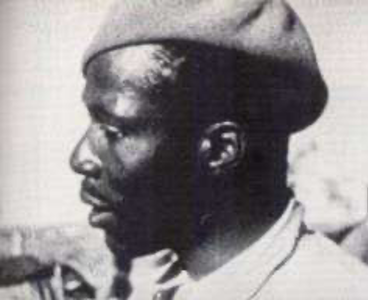 Biography
k-Law, Oliver. (Law, John); b. February 4, 1900 (October 23, 1900), Matagorda, Texas; African American; Father Sam Law (1868-1938), mother Julia Ann (Julian) Hawkins Law (1867-1950), 5 brothers, 4 sisters; Elementary school education; US Army 24th Infantry 1919-25; Married (Corine Booker (1892-1977); Party functionary; S. R. I., CP; Received Passport# 360284 on January 7, 1937 which listed his address as Chicago, Illinois (4928 Calumet Ave. Chicago); Sailed January 16, 1937 aboard the Paris; Arrived in Spain on January 30, 1937; Served with the XV BDE, Lincoln Battalion, MG Co., promoted to Section leader, then Company Commander and Adjutant Battalion Commander; Promoted to acting BN Commander when Martin Hourihan was promoted to the Regimental Staff; Rank Teniente April 21, 1937; Served at Jarama and Brunete; Killed in action on July 9, 1937 at Brunete in the assault on Mosquito Hill; Two potential spouses Aurelia Knighten (1906-1994) child Eunice Jean Knighten-Maynie (1933-2015); And Corrine Law (1894-?).
---
Biography: 
Oliver Law was the first African American to lead an integrated military force in the history of the United States. Law was born in west Texas on October 23, 1900. While still in his teens he joined the U. S. Army and from 1919 to 1925 served as a private in the 24th Infantry, a black outfit stationed on the Mexican border. After leaving the military, Law moved first to Bluffton, Indiana, where he worked in a cement plant and shortly thereafter to Chicago where he drove a cab for the Yellow Cab Company. With the onset of the Depression Law drifted among the ranks of the unemployed. Eventually, he landed a job as a stevedore and joined the International Longshoreman's Association. Following this, Law opened a small restaurant and when this venture failed, he went to work for the Works Project Administration. While out of work, Law joined the International Labor Defense and in 1932 the Communist Party. His political activities led to frequent run-ins with the Chicago Police Red Squad during one of which he was seriously beaten. Shortly before departing for Spain, Law was arrested while leading a rally to protest Italy's invasion of Ethiopia. During this period Law married Corrine Lightfoot, sister of a prominent African American in the Communist party, Claude Lightfoot. Law was among the earliest U.S. volunteers. He received his passport on January 7, 1937 and left for France, aboard the
Paris
, on January 16, 1937. In Spain, Law's leadership qualities and previous military experience were highly valued. He first served as Section Leader in the machine-gun company. When the Lincoln battalion was re-organized after the disastrous assaults on February 27, 1937 at Jarama, Law was promoted to Commander of the company. Law continued to advance in rank during the long period of trench warfare on the Jarama front. He was selected as Adjutant to the Battalion Commander. After an abortive attempt was made to form a regimental system within the brigade and the Lincoln commander, Martin Hourihan, was transferred to the regimental staff, Oliver Law was chosen to replace him and given the rank of captain. Law led the Abraham Lincoln Battalion during the initial days of the Brunete Offensive. On July 10, 1937, the fourth day of the campaign, he was mortally wounded while leading his command in an assault on Mosquito Ridge. Fifty years after his death, Law's historic achievement was recognized when Chicago Mayor Harold Washington declared November 21, 1987 "Oliver Law and Abraham Lincoln Brigade Day." ~ Chris Brooks
---
Photograph:
Oliver Law. VALB/ALBA.
---
Source:
Scope of Soviet Activity; Lincoln; Americans and Canadians Killed in Spain Complete list to November 15, 1937; RGASPI Fond 545, Opis 6, Delo 930, ll. 45-53; African Americans, L-W Tree Ancestry. Code A