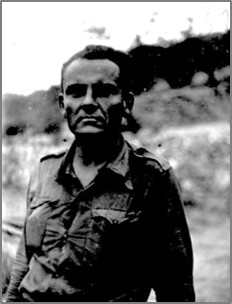 Biography
Olson, John 43 years old; Finnish American; CP 1921, CP USSR, Finnish CP; To the USSR 1926, Student at the University of Communists, Member Bureau of Collective Minorities of the East in Leningrad; Went to Finland in 1930 as an organizer, Central Committee of the Finnish Party; Arrested and sentenced to five years in prison; Journalist; To Spain September 5, 1937; Arrived September 10, 1937; May have served in the Mackenzie-Papineau BN; After being released from the hospital he was assigned to Tarazona on February 17, 1938; In March he was listed as a good comrade; Attended the Commissar School in Tarazona and served as the Political Delegate at the NCO School; Served in the Aragon and was WIA at Fuentes de Ebro and again at Teruel; Later noted as insubordinate and having deserted with money; Spoke Russian, Swiss, Finnish, German, and English.
---
Sources: RGASPI Fond 545, Opis 6, Delo 957, ll. 82-87; Opis 6, Delo1030, ll. 38-39.
---
Photograph: John Olson in Spain, RGASPI Fond 545, Opis 6, Delo 957.