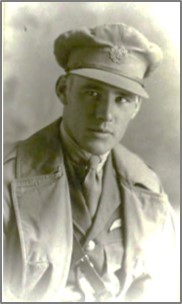 Biography
Bell, Orrin Dwight b. September 5, 1897, NYC; Pilot; Father Thomas Hope Bell (1859-1939), mother Leonora (Heffernan) Bell (1858-1936); Attended University of Victoria in Victoria, BC, Canada; Prior military service during WWI in the British Royal Flying Corps, reported to have downed six aircraft and a Zeppelin; Entrepreneur and Pilot; Married Agnes F. Daly (1898-?) on June 14, 1928 in White Plains, New York; No political affiliation; Domicile 2237 Grand Avenue, NYC; Arrived in Spain on December 21, 1936; Served with the Republican Airforce, Pilot, failed to make flight checks; Returned to the US on May 3, 1937 aboard the Queen Mary; WWII US Army Air Force, Captain; March 1943, assigned to Ferry Command; d. August 5, 1943, Staten Island, New York, buried Woodrow Cemetery, Woodrow, Staten Island, New York.
---
Siblings: sisters Sarah Bell (1882-?), Irene Frances Bell (1886-1968), Leonora Bell (1888-1975), Mildred Dorthy Bell (1895-1987), and Sylvia Bell (1899-1973).
---
Source: USSDA 2:0401, 52:0711; John Carver Edwards, Airmen Without Portfolio, Westport, Connecticut: Praeger, 1997; L-W Tree Ancestry. Code A
---
Photograph: Orin D. Bell.in 1918, Flying Club, Toronto, Canada, L-W Tree Ancestry.