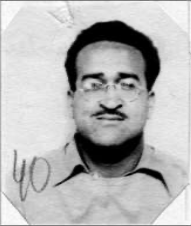 Biography
Hunter, Oscar Henry
b. May 22, 1908, Orange, New Jersey; African American; Father Charles Hunter, mother Lillian Hunter (both deceased); Attended the Hampton Institute 1926-28; West VA State College 1930-31, Brookwood Labor College 1931-32, and night school Northwestern University; ROTC Hampton Institute, 1926-28; Married; Journalist and Laborer; CP January 1932 (1931) unit organizer; Received Passport#88014 on April 12, 1934 which listed his address as 3504 Lake Park Avenue, Chicago, Illinois; Sailed January 16, 1937 aboard the
Paris
; Arrived in Spain on January 30, 1937; Served with the XV BDE, Lincoln BN, MG Co.; WIA Jarama; Appointed Commissar Hospital Casa Roja in Hospitals Murcia, Commissar Hospital S'Agaro, later appointed Commissar of International Auto Park Garages in Barcelona; Rank Cabo; Returned to the US on September 21, 1938 aboard the
Ile de France
; WWII Civilian, 4F due to SCW wounds; d. January 1, 1983, NYC.
---
Siblings: brothers Charles Hunter (1899-?), Travers Hunter (1914-?), sisters Ora Hunter (1903-?), Louise Hunter (1918-?).
---
Sources: Cadre; RGASPI Fond 545, Opis 6, Delo 913, ll. 39-63; African Americans; L-W Tree Ancestry. Code A
---
Biography: Oscar Hunter was born in Orange, New Jersey, on May 22, 1908. His mother was "mostly Indian," and his father from South Carolina was "mostly French." His father's surname, Lannier, was Hunter's legal name before his mother changed it to Hunter. Hunter's mother died when he was in the fourth grade. At fourteen he hitchhiked to Detroit, expecting to get a job in the auto industry. Along the way, in Cleveland, a local black family who helped him get a job as a window washer in a department store took him in. A supervisor at the store, also a black man, noticed that Hunter spent his spare time reading and offered to help him return to school. Oscar Hunter attended the Hampton Institute in Virginia for five years. It was at Hampton, he says, that he "became a radical." This was due in part to the influence of a Bible teacher who gave Hunter books on socialism. In 1931 Hunter went to West Virginia State College on a football scholarship. The following year he attended Brookwood Labor College, a school for labor organizers run by the radical Protestant minister A J. Muste. While at Brookwood, Hunter joined the Communist party. In 1932, Hunter became an organizer for the Party, working first in New York for a year and then transferring to Chicago where he was involved in the Party's drive to organize stockyard workers. At the same time he also studied journalism at Northwestern University, ran a bookstore on the Campus of the University of Chicago, and joined the local John Reed Club, which included among its members Richard Wright and Nelson Algren. Hunter volunteered to join the International Brigades in 1936. In the company of Oliver Law, James Miller Robinson, Bill Lawrence, and Morris Teitelbaum, he traveled from Chicago to New York. He applied for a passport stating that he intended to study at the London School of Economics (he told his family the same story.) Hunter departed for Europe, aboard the Paris, on January 16, 1937. In Spain, Hunter served first with the Lincoln Battalion's Tom Mooney Machine Gun Company. There he formed a close comradeship with Douglas Roach, another African American, with whom he shared a trench and attempted to operate a World War I-era Russian machine gun. Wounded in action at Jarama, Hunter was sent to the American hospital in Murcia run by Dr. Edward Barsky. Hunter eventually became political commissar for the hospital, responsible for the morale of English-speaking patients. He worked diligently at the task and was later transferred to Barcelona as Commissar of an International Auto Park. In the fall of 1938, Hunter was sent back to the United States to arrange hospital space and care for returning wounded volunteers. He arrived on September 21, 1938 aboard the Ile de France. In Chicago Hunter helped organize the Veterans of the Abraham Lincoln Brigade (VALB) Post and resumed his political activities. Eventually the Party informed him that because of his political activities he was in danger of arrest and should leave town. Hunter moved to New York where, with the help of Joe Gordon, a fellow veteran, he found a position in the furrier trade. Hunter worked in the field for more than a decade. Later he developed his own printmaking process and, together with his wife, started his own business producing hand-painted wallpaper. During the 1950s the FBI harassed Hunter. One of Hunter's brothers would not speak to him for many years because he had been frightened by FBI questioning. Hunter left the Communist party in the early 1950s. During the 1960s Hunter was active in anti-Vietnam War protests and in neighborhood issues around his New York cooperative apartment building. During his last years, Hunter served as National Secretary of the VALB and was one of the founders of the Abraham Lincoln Brigade Archives. Hunter died in New York on January 1, 1983. ~ Chris Brooks
---
Photograph: Oscar Hunter in Spain, RGASPI Fond 545, Opis 6, Delo 913, ll. 40.