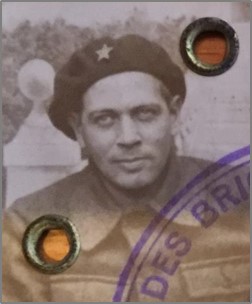 Biography
Kristiansen, Oskar
(Christiansen, Oscar); 26 years old; Norwegian American; Single; Seaman and Building Service Worker; Anti-Fascist or CP 1934; Domicile 434 Clinton Street, NYC; Sailed February 6, 1937 aboard the
Paris
; Arrived in Spain February 17, 1937; Served with the 86
th
BDE, 20
th
BN, Co. 3; Later with Lincoln BN; Repatriated at the request of "Norwegian organization" political.
---
Source:
RGASPI Fond 545, Opis 6, Delo 849, ll  23, List of American Comrades that have been Repatriated as per October 15 1937; Ross; Carnet from internet.
---
Photograph:
Oskar Kristiansen, Carnet from the internet.
---