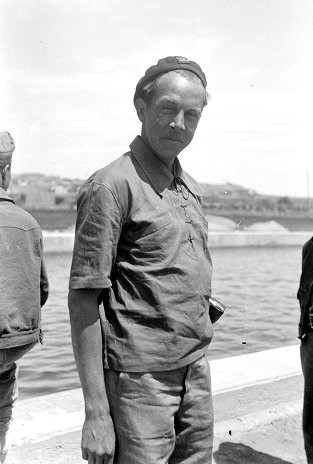 Biography
Smith, Owen Jefferson. b. August 18, 1909, Moore, Montana; Father Byron Jefferson Smith (1874-1941), mother Lucinda Snare (1885-?); 5 years at the University of Iowa; Completed graduate work at the University of New Hampshire, MS degree; Single; Entomologist; CP June 1934 (1933), section secretary; Certificate of identity issued which listed his address as 116 3rd Avenue, East Albin, Iowa and Durham, New Hampshire; Arrived in Spain on February 14, 1937; Served with the XV Brigade, Lincoln Battalion, Co. 2, Section 1, Group 2; Washington Battalion, Co. 2 and Lincoln-Washington Battalion, Commander Co. 3; WIA Belchite; Attended OTS; XV Brigade Special MG Co.; 35th Division, Estado Mayor; XV Brigade, Estado Mayor; Staff Officer; Rank Captain; Served at Jarama, Brunete, Belchite, and the Ebro Offensive; WIA September 1, 1937 Belchite; Returned to the US on December 20, 1938 aboard the Ausonia; Married Daisy Sands (1919-?) on July 10, 1939 in Davenport, Iowa, son Byron Smith, daughter Sharon Smith; WWII Armed Forces; Worked as an Entemologist with the University of California; d. March 5, 1994 (April 2, 1956, Riverside, California).
---
Siblings: brother Elmer Smith (1913-?), sisters Fern M. Smith (1904-?), Magtha Smith (1918-?), June Smith (1924-?).
---
Sources: Scope of Soviet Activity; Americans; RGASPI; Iowa Research; L-W Tree Ancestry.
---
Photographs:
Owen Smith, Operations, May 1938. The 15th International Brigade Photographic Unit Photograph Collection; ALBA Photo 11; ALBA Photo number 11-0973. Tamiment Library/Robert F. Wagner Labor Archives. Elmer Holmes Bobst Library, 70 Washington Square South, New York, NY 10012, New York University Libraries; RGASPI Fond 545, Opis 6, Delo 991.
---