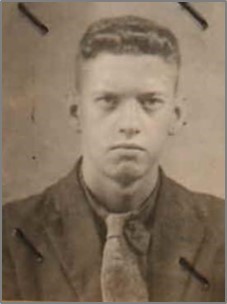 Biography
Owens, Harry Francis b. circa Septembe 15, 1903, Philadelphia, Pennsylvania; Prior military service in the US Army, served in 20th Infantry, 2nd Battalion, Headquarter Company, Private, enlisted in Camp Upton, New York on June 16, 1920 and was honorably discharged on July 22, 1921 at Camp Travis, Texas; Seaman; IWW 1921; Domicile Philadelphia, Pennsylvania; Served with the Washington BN, MG Co., Section 2; Killed in action Brunete, July 1937.
---
Source: RGASPI Fond 545, Opis 2, Delo 51, ll. 108, Order du Jour no. 56 (Order of the Day, June 4, 1937); Matt White; L-W Tree Ancestry. Geiser letters p. 28. Code A
---
Photograph: Harry Francis Owens, from Seaman's Protection Certificate application, August 1921, L-W Tree Ancestry.