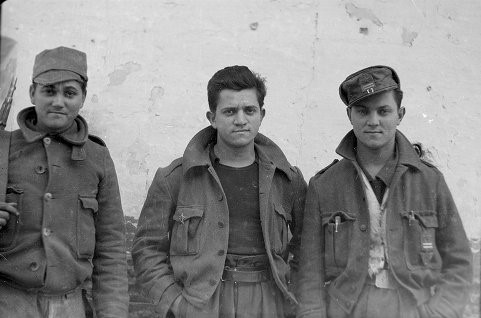 Biography
k-Carbonell Cuevas, Pablo (Cueras); July 21, 1912, Cabo Rojo, Puerto Rico; Puerto Rican; Father Luciano Federico (don Fédere) Carbonell y Pérez, mother Elisa Cuevas Vda. Carbonell; Education through the 8th grade; Married; Driver and Mechanic; CP 1932 (1931); Sailed July 24, 1937 aboard the Britannic; Arrived in Spain via Massanet on August 6, 1937; Served with the XV BDE, Mackenzie-Papineau Battalion, MG Co., Section Leader; Killed in action January 19, 1938, Teruel; Brother of Victor and Jorge Carbonnell.
---
Siblings: five sisters Laura Carbonell Cuevas, Elena Carbonell Cuevas, Josefina Carbonell Cuevas, Petra Carbonell Cuevas, Gabriela Carbonell Cuevas, three brothers Victor Carbonell Cuevas, Federico Carbonell Cuevas, and Jorge Carbonell Cuevas.
---
Source: Cadre (under Cuevas, Pablo C.); Figueres List; RGASPI, Fond 545, Opis 2, Delo 217; Opis 3, Delo 509; Opis 6, Delo 31; José Alejandro Ortiz Carrión and Teresita Torres Rivera, Voluntarios de la Libertad, Puertorriqueños en Defensa de la República Española 1936-1939.      Code A
---
Photograph: Three Carbonell brothers, Pablo, Victor and Jorge, December 1937. The 15th International Brigade Photographic Unit Photograph Collection ; ALBA Photo 11; ALBA Photo number 11-1008. Tamiment Library/Robert F. Wagner Labor Archives. Elmer Holmes Bobst Library, 70 Washington Square South, New York, NY 10012, New York University Libraries.