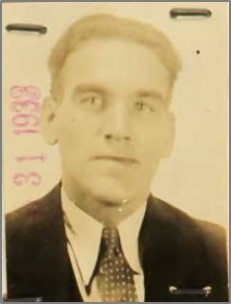 Biography
Palu, John (Paul); b. November 19, 1907, Kihnu, Estonia, To the US 1930; Estonian American; Father Michael (Mihkee) mother Martha (Marta) Lane; Served in the 1st Regiment, 6th BN of the Estonian Army, 1928-1929; Elementary and Primary School education in Estonia; Single; Carpenter and Construction Worker; Domicile NYC; Estonian Worker's Club and Building Service Union AFL, Joined Spanish CP January 3, 1939; Travelled on an Estonian Passport; Sailed February 6, 1937 aboard the Paris; Travelled on an Estonian Passport; Arrived in Spain February 14, 1937 crossed over by bus before the border was closed; Served with XV BDE, Lincoln BN, Co. 2, Section 1, Group 3; Later Co. 1; Later with 4th Artillery Group, 35th Battery; Served at Jarama, Brunete, Aragon (Quinto), Levante, and Teruel; WIA August 24, 1937 at Quinto, hit in foot, spent 4 months in Benicasim and Murcia hospitals; Rank Soldado; Returned to the US on April 17, 1940 aboard the Exhibitor, sailing from Tangier; His uncle Michael Lane paid his fare home.
---
Sources: Voros-Jarama; RGASPI Fond 545, Opis 6, Delo 1517, ll. 38-46.  Code A
---
Photograph: John Palu from his Seaman's Protection Certificate application, 1933, L-W Tree Ancestry.