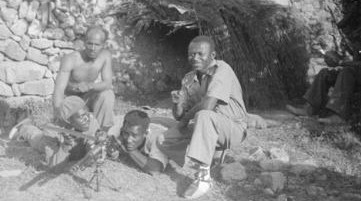 Biography
Roosevelt, Patrick. b. December 5, 1903, Valley Stream, Long Island, New York; African American; Single; Pilot; CP 1932; Received his Passport on January 17, 1938 which listed his address as 1121 East Washington Boulevard, Los Angeles, California; Sailed March 10, 1938 aboard the Queen Mary; Arrived in Spain via Massanet on February 8, 1938; Served with the XV BDE, Lincoln-Washington BN, MG Company; Rank Soldado; Served at the Retreats and the Ebro Offensive; WIA Ebro Offensive, Sierra Pandols, Hill 666 on August 19, 1938 resulting in the loss of his leg in the same blast that killed Joe Bianca; Hospital 35th Division August 19-20, Cambril August 20-21, Tarragona 21-26, Barcelona August 26-September 8, Mataro September 8- October 24, and Sagaro from October 24 to repatriation; Returned to the US on February 9, 1939 aboard the Queen Mary; WWII Civilian due to war wounds; d. March 1982.
---
Sources: Figueres List; Pay; RGASPI Fond 545, Opis 6, Delo 975, ll. 78-81; African Americans; L-W Tree Ancestry. Code A
---
Biography: Patrick Roosevelt was born in New York on December 1, 1905. The second youngest of eight children, Roosevelt's mother was a schoolteacher and his father a doctor. Roosevelt finished high school in California and attended the California Institute of Technology before he became interested in aviation. He obtained training as a pilot and barnstormed around the country in the late 1920s and early 1930s. While traveling Roosevelt encountered IWW organizers and began reading their literature and the writings of Marx. In 1932 he joined the Communist Party. Years later, Roosevelt recalled that his desire to volunteer in Spain was fueled by anger at the Italian invasion of Ethiopia. On January 17, 1938, the same day he was issued a passport, Roosevelt left for Spain. Roosevelt had intended to fly for the Republic, but by the time he arrived the Spanish government had stopped accepting foreign pilots. He opted to stay and join the infantry. After a short training period, Roosevelt was assigned to the Lincoln-Washington Battalion. He fought as a rifleman with the unit during the second stage of the Retreats. When the Battalion was reorganized, Roosevelt was assigned to the machine gun company. On August 19, 1938, during the Ebro offensive, during heavy shelling on the Lincoln's position on Hill 666, Sierra Cabals, Roosevelt was hit by shrapnel in the head, leg and shoulder. Roosevelt's leg was amputated after he reached the hospital. The shrapnel that wounded Roosevelt killed his Gun Commander, Joe Bianca. While recovering in the hospital, he read to a fellow patient, an English volunteer, who had lost his eyesight. After returning to the United States on February 9, 1939, Roosevelt continued his recovery in a New York Hospital. Hospital bills, the purchase of prosthetic leg and rehabilitation were all paid by the Friends of the Abraham Lincoln Brigade. Because of his technical and mechanical background, Roosevelt was able to get work as a machinist and electronics worker and joined the United Electrical Workers CIO Union. He lived in New York until his death in March 1982. ~ Chris Brooks
---
Photograph: Negro Machine-gunner crew. (Patrick Roosevelt behind the gun, kneeling left Vaughn Love, kneeling right Walter Cobbs, Soldier feeding the gun unidentified), June 1938. The 15th International Brigade Photographic Unit Photograph Collection; ALBA Photo 11; ALBA Photo number 11-1065. Tamiment Library/Robert F. Wagner Labor Archives. Elmer Holmes Bobst Library, 70 Washington Square South, New York, NY 10012, New York University Libraries.