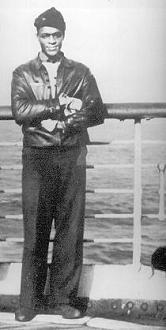 Biography
Williams, Paul Elisha b. June 17, 1907 (1909), Youngstown, Ohio; African American; Father Elias Williams (1871-1916), mother Alic Gaspin (1875-1953); Pilot; Possibly served as a civilian Naval Aviator; Single; Pilot; No political affiliation; Sailed August 11, 1937 aboard the Queen Mary; Arrived in Spain via Espolla on September 8, 1937; Served with the Republican Air Force, ground crew with coastal aviation unit; Returned to the US in December 1937 aboard the Aquitania; Wife Rught G. Holland, children Phyllis Williams, Friedrich Williams, Hilda Singleton, Susan Williams, Laura A. Jenkins, Deborah E. Williams, and Ruth A. Quensbury; Later wife Grace Williams; WWII served in the Merchant Marines; d. September 6, 1987, buried in Arlington Cemetery in Pennsauken, New Jersey.
---
Siblings: brothers Helmer Williams (1896-?), Randall Williams (1898-?), sisters Leora Williams (1894-?), Annita Jackson (1899-?), Helen Williams (1904-?), Naomi R. Williams (1909-?); half-siblings Robert Williams (1912-), Howard Williams (1916-?) and Alice Williams (1914-?).
---
Sources: Figueres List; Repatriation List (11/13/1937, ll. 34); R. S. Allen; African Americans; Obituary Courier Post, September 11, 1987; L-W Tree Ancestry. Code A
---
Biography: Paul Williams was an African-American pilot in the Spanish Air Force during the Spanish Civil War. He was born in Youngstown, Ohio, in 1909. After he graduated from high school, Williams attended Carnegie Tech in Pittsburgh. As a student he worked at the Pittsburgh railroad yards. He later transferred to the Ohio School of Aeronautical Engineering and subsequently obtained work as a pilot flying for the Ohio Aero Company. Williams was the only black pilot working in the Ohio area at that time. Later, with three partners, he formed a company to design and manufacture a light bomber plane to sell to the government. The venture failed because they were unable to compete with the larger companies. During this period Williams also worked as a test pilot and taught aeronautics to Civilian Conservation Corps (CCC) workers at Patterson Field in Dayton. In September 1936 Williams began to build another plane of his own design, the WX21. Williams was a member of the Communist Party and departed for Europe, along with James Lincoln Holt Peck, aboard the Queen Mary, on August 11, 1937. Williams and Peck were sent to Valencia for an intensive refresher and ground training courses. Neither pilot was allowed to fly in Spain. The completion their training coincided with the arrival of Spanish pilots who had been trained in Russia and France. Consequently all international pilots were summarily withdrawn. Williams and Peck agreed to act as ground crew at a coastal base. Williams and Peck left Europe aboard the Aquitania in December 1937. After returning to the United States, Williams participated in the activities of the Friends of the Abraham Lincoln Brigade and during World War II he served in the Merchant Marines.~ Chris Brooks
---
Photograph: Paul Williams aboard the Aquitania, Kurt Baker.