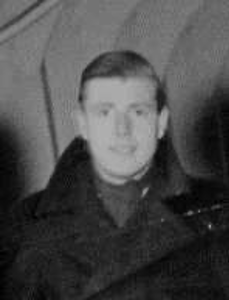 Biography
Layton, Paul Eugene. (birth name Clatterbuck); b. April 3, 1911, York, Pennsylvania; Father Daniel W. Clatterbuck (18678-1947), mother Annie E. Layton (1865-?); Prior military service in the US Army, 6 months during 1932, Medic; Married (Single); Clerk and Driver; CP 1933; Received Passport# 366630 on February 11, 1937 which listed his address as 2720 South 7th Street, Philadelphia, Pennsylvania, and 819 S. Lancaster Street, York, Pennsylvania; Sailed February 20, 1937 aboard the Ile de France; Arrived in Spain on March 5, 1937; Served with the XV BDE; Returned to the US on December 15, 1938 aboard the Paris; Wife Grace Ruby; d. October 21, 1992, York, Pennsylvania.
---
Siblings: brother Whitfield Clatterbuck (1917-2002), sister Annie Clatterbuck (1895-?)
---
Sources: Sail; Scope of Soviet Activity; Cadre; RGASPI; L-W Tree Ancestry. Code A
---
Photographs:
Paul Layton. Veterans of the Abraham Lincoln Brigade Photograph Collection; ALBA Photo 15; Series I Photographs 1930s-1990s, Box 2, Folder 37. Tamiment Library/Robert F. Wagner Labor Archives. Elmer Holmes Bobst Library, 70 Washington Square South, New York, NY 10012, New York University Libraries.; and detail from a group photograph taken aboard the Paris, December 1938.; Layton and John Kahler 1940s, Family photograph.
---