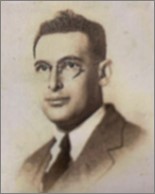 Biography
k-Wendorf, Paul b. November 11, 1911, NYC; Russian Jewish; Father Abraham Wendorf (1872-1932), mother Ida (Kanney) Wendorf (1882-1967) were both born in Russia; Graduated from Columbia University with a BA in History and Economics in 1932, Ran track and cross country and was a member of Tau Epsilon Phi; Married Leona Grossman on February 1, 1937 in NYC; Writer; CP 1933, unit organizer; Received Passport# 364369 on February 2, 1937 which listed his address as 521 West 185th Street, NYC; Sailed February 6, 1937 aboard the Paris; Arrived in Spain on February 14, 1937; Served with the XV BDE, Lincoln BN, Co. 2, Section 2, Group 2; Later with the MG Co.; Historical Commission of IB and helped create The Book of the XVth Brigade; Returned to the Lincoln-Washington BN, MG Co.; Listed as killed in action with the British Battalion; Served at Jarama, Brunete, and the Ebro Offensive; Rank Soldado; KIA August 18, 1938 in the Sierra Pandols, Ebro Offensive; Wife Leona later married veteran Charlie Nusser.
---
Sibling: Sister Bertha Wendorf (1901-1980).
---
Sources: Scope of Soviet Activity; Lincoln, Voros-Jarama; RGASPI; USSDA 2:1037, 61:0774; ALBA 120 Paul Wendorf Papers; RGASPI (8 typed pages of his personal impression of Brunete).
---
Biography Paul Wendorf graduated with a B.A. from Columbia University, where he majored in history and economics, in 1932. In 1933, while working as an organizer for the American League against War and Fascism, he joined the Communist Party. Over the course of the next three years, he worked as an activist and labor organizer in New York City, first for a white-collar municipal workers' union, and subsequently as a coordinator of welfare and relief for the unemployed. He married Leona Grossman and soon after enlisted in the Abraham Lincoln Brigade to fight on behalf of the Republican forces in Spain. He sailed on the S.S. Paris on February 6, 1937 and served in Spain from February 1937 until August 1938. He fought in the battle at the Jarama front from March to June 1937, and in the Brunete offensive from July until August 1937. He was appointed in September 1937 to the Historical Commission in Albacete and, under the supervision of Sandor Voros, participated in writing the history of the 15th International Brigade and the American battalions. He also contributed articles to the Brigade's newspaper the Volunteer for Liberty. In January of 1938 he was charged, along with Carl Geiser, with organizing a school for political commissars. A bout of rheumatism and subsequent hospitalization prevented him from carrying out this assignment, and by March, he was returned to active service. He took part in the Ebro offensive, the Brigade's final conflict, and crossed the Ebro with the Lincoln Brigade late in July. On August 18, 1938, Wendorf was killed during an aerial attack in the Sierra Pandols, only one month prior to the withdrawal of the International Brigades. In 1939 Charles Nusser, a fellow Lincoln Brigade veteran and Wendorf's friend, married Leona Grossman Wendorf. - Courtesy of Tamiment Library, NYU.
---
Photograph:  Paul Wendorf Passport Photograph 1937.