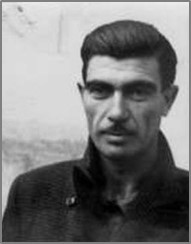 Biography
Fortis, Pavlos N. (Fortis, Paulus H.; Paul; Pablo; Pavlo); b. January 6, 1906, Greece; Greek American; Father Nicolas Fortis, Mother Maria Driches; 3 years primary school education; Served in the Greek Navy, Regiment de Marinos, 8 months; Single; Seaman and Dishwasher; Greek CP 1934, Maritime Workers Union, Spartucus Club; Domicile Mission Street, San Francicso; 31 years old; Sailed August 18, 1937 aboard the Aquitania; Arrived in Spain September 1, 1937; Served with the XV BDE, Lincoln-Washingotn BN, Co. 2 later MG Co., Section leader; During Ebro offensive was in Co. 2, Section Leader of the 1st Section, commanded the Company when Aaron Lopoff was away; Served at Belchite, Fuentes de Ebro, Teruel, Seguro de los Banos, Belchite, Gandessa, Caspe, and Mora de Ebro; Rank Sargento; WIA July 31, 1938; Hit by a mortar shell, shrapnel to face; Broke his arm in an accident at Mora de Ebro.
---
Sources: Sail; Cadre; Pay; RGASPI Fond 545, Opis 6, Delo 415, ll. 13-34; Greek.
---
Photograph: Pavlos Fortis, Fond 545, Opis 6, Delo 415.