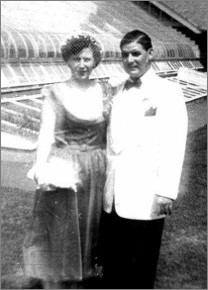 Biography
Campo, Peter John, Sr. (Camp; Campo, Pietro; Del Campo, Pedro; Campos, Richard); b. December 28, 1911, Graniteville, Vermont; Spanish American; Father Laureano Compo, mother Isabel Campo; Journalist and Mechanic; CP; Sailed February 6, 1937; Arrived in Spain on February 17, 1937; Served with the XV BDE, 24th BN, First Aid man; WIA Brunete,  thereafter poor health; Deserted during the Retreats, sought help from the American Consul in Gibraltar; Left Gibraltar by stowing away on the British steamship Lanarone along with Addison Keeler, John Weiss, Raymond Ticer, Michael Bishop, and Roben Hodge; Refused permission to land in Dartmouth England; All were arrested when the ship docked in Scotland; They initially claimed to have deserted from Franco's foreign Legion; Sentenced to 21 days in jail on June 1, 1938, expelled and arrived in the US on June 19, 1938 aboard the Scythia; Married Ruth Loretta Sharron (1914-2004) on December 20, 1940; Son Peter John Campo, Jr. (1945-2012) and step-son Daniel Louis Pisanelle; d. August 26, 1976, Fairfield, Connecticut, buried at Saint Michaels Cemetery, Stratford, Fairfield County, Connecticut; Possibly Richard Campos, who Sailed in February 1937.
---
Siblings: brother Thomas J. Campo (1909-1993), half-sister Marcelina Campo (1913-?).
---
Sources: Americans; L-W Tree Ancestry; Find-a-Grave #160017357; "Franco Fugitives Barred From Landing in England," St. Louis Post-Dispatch, May 19, 1938; "Americans Jailed," The Windsor Star, (Windsor Ontario), June 1, 1938; "Conn. Man Who Fled Spain Coming Home," Hartford Courant, June 7, 1938; Patricia Sisbarro, Daniel L. Pisanelle Married Yesterday," The Bridgeport Post (Bridgeport, Connecticut), May 12, 1968, p. 27; obituary, The Bridgeport Post, August 30, 1976, p. 22; "Notice to Creditors Estate of Peter John Camp," The Bridgeport Post, October 15, 1976, p. 42. Code A
---
Photograph: Peter John Campo and wife Ruth on their wedding day, 1940; Ancestry.