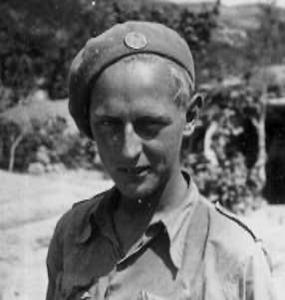 Biography
Sturgeon, Peter Asheton. b. November 22, 1916, New York; NYU BA; White Collar Worker; CP, NMU; Received Passport# 490349 on December 27, 1937 which listed his address as 919 North Broadway, Baltimore, Maryland, and 11 Broadway, NYC; Sailed January 4, 1938 aboard the Champlain along with Delmer Berg, Louis Gayle, and Harry Hurst; Arrived in Spain via Agullana on January 16, 1938; Trained Tarazona Battalion of Instruction from January 21 to February 12, 1938; Served with the XV Brigade, British Battalion, Co. 2, Observer; Rank Cabo; Served at Ebro Offensive; Returned to the US on December 20, 1938 aboard the Ausonia; WWII US Army, drafted in 1941, served in the 517the Airborne Regimental Combat Team in the ETO; d. July 22, 2005, Vienna, Austria; Left the CP and advocated for an Independent Veterans Committee for Anti Fascist Action and was expelled from VALB; Founded the first American Chapter of Mensa in 1960.
---
Sources: Sail; Scope of Soviet Activity; Figueres List; Pay; RGASPI Fond 545, Opis 6, Delo 996, ll. 44-53; "Thomas and Sturgeon Expelled," The Volunteer, Volume 1, Number 5, October 1939,pp. 4-5, Wikipedia.
---
Photograph: Peter Sturgeon in Spain, Fond 545, Opis 6, Delo 996.