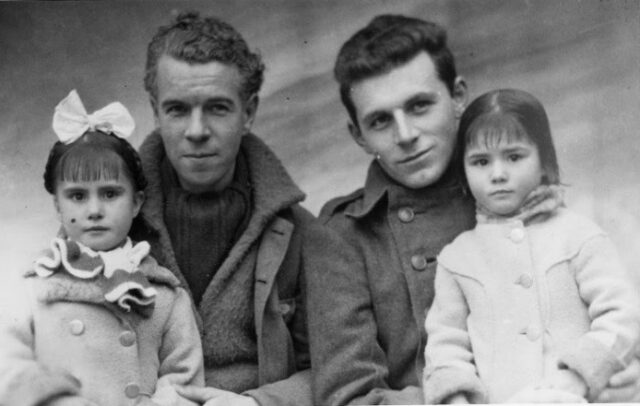 Biography
Frye, Peter (Peter Friedman), b. May 8, 1914, Montreal, Canada; Jewish; Married; Briefly taught Theater at Commonwealth College in Mena, Arkansa; Theatre worker and Student; CP 1935; Domicile 155 East 44th Street, NYC; Sailed May 26, 1937 aboard the Vollendam; Arrived in Spain via Setcases on June 15, 1937; Served with the XV BDE, Lincoln-Washington BN, Company 1; Served at Quinto and Belchite; WIA in arm, resulted in the permanent loss of use of three fingers on his right hand; Returned to the US on March 7, 1938 aboard the Queen Mary; WWII civilian due to war wound; d. June 1991, Sutton, Surrey, England.
---
Sources: Cadre; Figueres List; Repatriation List (1/321/1938, ll. 100); RGASPI; Thelma Ruby and Peter Frye, Double or Nothing: Two Lives in the Theater, London: Janus Publishing, 1997.
---
Photograph: John Londragon from Scotland and Peter Frye (right). Photograph courtesy Thelma Ruby.