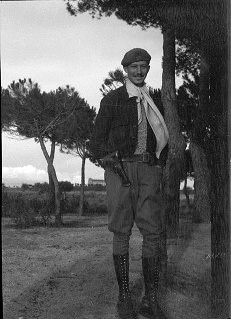 Biography
Detro, Philip Leighton
b. May 17, 1911, Conroe, Texas; (Detro, Philip Lucas); Father Clyde Leighton (Clarence) Detro (1889-?), mother Mary Agnes (Chrisman) Detro (1893- 1943); Graduated from Davy Crockett High School in 1928, later attended Rice University and the University of Missouri, joined Alpha Tau Omega; Took flying lessons; Single; Writer and seaman; No party affiliation (when asked by Milly Benet he replied "Democrat"); Received Passport# 31920 on June 12, 1933, updated March 1937, which listed his address as 61 Washington Square South, NYC; Sailed March 12, 1937 aboard the
Ile de France
; Served with the XV BDE, Washington BN, Co. 1, Adjutant, Alfarez; Promoted to Company Commander during the Brunete Offensive; WIA; Returned to BDE at Belchite as a Staff officer; Commander Lincoln-Washington BN; Served at Brunete, Belchite, Fuentes de Ebro, and Teruel; Was wounded by a sniper at Teruel on January 19, 1938 and died of complications in Murcia hospital on April 10, 1938; Lenora Temple took care of his effects and notified Detro's mother.
---
Source:
Scope of Soviet Activity; Washington; XV BDE; USSDA 2:0495, 53:0744; L-W Tree. Code A
---
Phil Detro — "Long-Legged" Texan Commander of our Lincoln-Washington Battalion, by B. O
.;
The Volunteer for Liberty
, V. 1, No. 25, December 6, 1937; reprint
The Volunteer Blog
, posted  July 26, 2019.
---
Photographs:
Philip Detro, Battalion Commander, Lincoln-Washington, November 1937; and Phil Detro, Commander, Lincoln-Washington Battalion with unidentified woman, November 1937; The 15th International Brigade Photographic Unit Photograph Collection; ALBA Photo011; ALBA Photo number 11-0116. Tamiment Library/Robert F. Wagner Labor Archives. Elmer Holmes Bobst Library, 70 Washington Square South, New York, NY 10012, New York University Libraries; Passport Application 1933, and Seaman's protection certificate 1933.
---