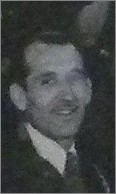 Biography
Mora Monterde, Rafael. b. May 12, 1912 (1914), Badalona, Barcelona, Catalonia, Spain, to the US June 28, 1935; Spanish American; Father Jose Mora, mother Pascuala Mora; Single; Primary school education in Spain; Single; Clerk in his father's hardware store; CP 1934, Spnish Worker's Club; Sailed January 16, 1937 aboard the Paris (or Majestic); Served with a Spanish Unit; WIA Guadalajara; Returned to the US on October 1, 1938 aboard the Paris; WWII Civilian; Married Maria Egudelia Cancino (1916-2006) on January 8 1940 in NYC; d. July 25, 1979, Dade County, Florida; Did not speak English, after the war he returned to his father's store, later settled in Florida; May have traveled on a Spanish Passport (?).
---
Sources: RGASPI (under Mora Monterde) Fond 545, Opis 6, Delo 950, ll. 1-2; L-W Tree Ancestry. Code A1
---
Photograph: Rafael Mora Monterde, ALBA Banquet 1945.