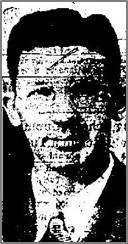 Biography
k-Neafus, Ralf Lawrence
(Neaphus); b. February 15, 1910, Clovis, New Mexico (Tucumcari, New Mexico); Father James O. Neafus (1877-1925), mother Laura Neafus (1877-1966);
Attended the University of Michigan, Forestry School for six years, graduated 1932; Single; US Forestry Service; CP 1936; Received Passport# 438749 on June 10, 1937 which listed his address as 110 North State, Ann Arbor, Michigan (Mogollon, New Mexico); Sailed June 16, 1937 aboard the
Aquitania
; Arrived in Spain via Massanet on June 28, 1937; Served with the XV BDE, Mackenzie-Papineau BN, Company 2; Captured and executed on March 17, 1938 during the Retreats; Was interviewed by Carney shortly before he was shot.
Ralph Neafus: Looks like an intellectual, but he knows how to handle these pugnacious drunks, and he came off with top honors in the battalion wrestling match. He's Co. 2's ace scout, and altogether an o.k. guy. R
---
Siblings:
Ruth Neafus (1899-?), Helen Neafus (1913-?), brothers Henry Neafus (1901-1978), Clifford Neafus (1902-?).
---
Sources:
Scope of Soviet Activity; Cadre; Figueres List; Mac-Paps; RGASPI Fond 545, Opis 6, Delo 953, ll. 1-2; Opis 6, Delo 561, ll. 14 (ver ar gen can); USSDA 2:0788, 57:0862; POW; Material from New Mexico Shouts from the Wall exhibit. Code A
---
New Mexico Volunteers – Ralph Lawrence Neafus
, The Volunteer Blog, posted March 23, 2020.
---
Photograph:
clipping from the
Detroit
News
, May 15, 1938.